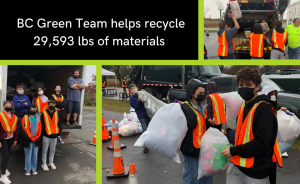 Thank you to everyone who helped reuse and recycle more than 14 tons of clothing/textiles, secure documents for shredding, bicycles, cardboard, and books on Nov. 13 as part of the 7th America Recycles Day event! A total of 557 district households participated, bringing approx. 29,593 lbs. of materials to be recycled. Approximately $1,200 was raised to support the BCSD Environmental Programs.
Among the items recycled:
Clothing/Textiles Reuse & Recycling – 11,833 lbs. 

Bike Reuse: 60 bicycles donated to Troy Bike Rescue – 1,500 lbs. (est.)
Document Shredding/Paper Recycling – 6,540 lbs.
Book Reuse & Recycling and Cardboard Recycling – 1,600 lbs. (est.) of high-quality books with reuse value were collected. An additional 7,500 lbs. of books (est.) were recycled.
Cardboard boxes – 620 lbs. 
For this event, the Town of Bethlehem partnered with the Bethlehem Central School District, Delmar Farmer's Market, Grassroot Givers, and Troy Bike Rescue, and collaborated with American Clothing and Recycling Company, 3N Document Destruction and Twin Bridges Waste & Recycling (Twin Bridges stepped in at the last minute to help with recycling collection containers when other plans fell through).
A special thanks to Mark Warford from the Bethlehem Central School District Green Team & the Middle School Garden Club, Erin Engelson from the High School Environmental Club, and the many student volunteers who made this event possible!
If you missed the collection, there will be another similar event in April 2022. Check the Town website in late winter for details about the Spring Recycle Fest. You can also still donate clothing/textiles for reuse and recycling throughout the year at the Elm Avenue Park & Ride, or at the back of the Town's municipal parking lot on Kenwood Avenue near the clock by Four Corners.