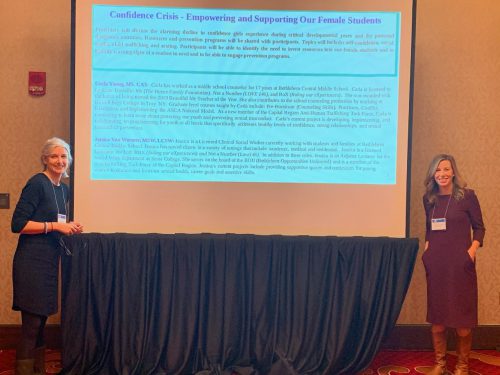 The mental health and wellbeing of Bethlehem Central School District students continues to be a primary focus in the work of the district's Counseling Services. Recently, BCMS Counselor Carla Young and BCMS Social Worker Jessica Van Wormer presented at the New York State School Counselors Association, sharing the work they do here in the district with counselors and social workers from across the state.
The presentation was titled "Confidence Crisis: Empowering and Supporting our Female Students." It discussed the alarming decline in confidence girls experience during critical developmental years and the potentially dangerous outcomes.
Both Ms. Young and Ms. Van Wormer drew upon their years of experience and programs already being taught throughout the district in their presentation. For nearly the past decade, the middle school counseling center has been running the "Beautiful Me" program, focused on enhancing self-esteem, increasing body positivity awareness, and help build healthy relationship skills for women and girls of all ages.
But Ms. Young and Ms. Van Wormer started to see recent trends that made them dig deeper into the data of young girls and a growing confidence crisis. Both enrolled in the Ruling Our Experiences (ROX Program) and Not a Number – Love 146 program, and became facilitators for both. They also spent the summer researching the topics of self-esteem, healthy relationships, and consent. They also became members of the Capital Region Anti-Trafficking Task Force.
"We have had the opportunity to present this information to staff so they are better equipped to work with our students," said Ms. Young.
The programs that Ms. Young and Ms. Van Wormer are enrolled in are currently taught across district buildings in addition to ongoing counseling lessons. Beautiful Me is offered to all 6th-grade female students at BCMS, while the book "Maybe He Just Likes You" is being read to 5th graders at Elsmere and 6th graders at BCMS. There are 15 ninth and tenth-grade female students in the ROX Program, and Ms. Young says they will be gathering data throughout the school year on the effectiveness of the program. Modified lessons from the Not a Number program are being taught by counselors at BCHS in high school health classes as well.
The BCMS Counseling Center has set up a counseling library for staff and parents. The book recommendations include confidence, healthy relationships, and consent. Ms. Young says the counseling center is also looking to have outside presenters come and speak on those topics soon.