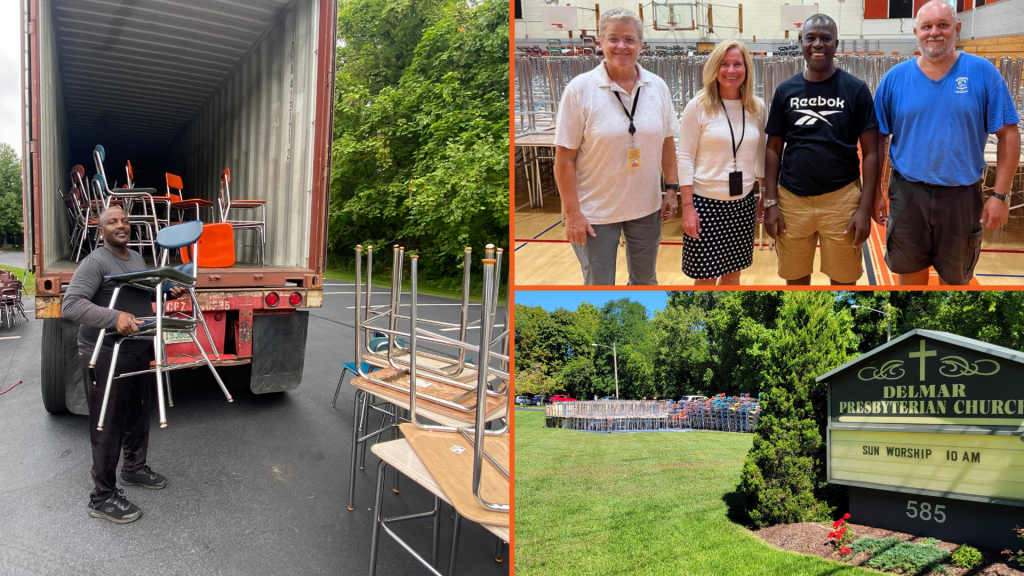 This is no ordinary back-to-school story.
As more than 4,000 students were returning to Bethlehem schools, thousands of desks and chairs BC students have used for 20-plus years are off to a new home at a school more than 4,600 miles away in Liberia, West Africa.
The desks and chairs — purchased by the Bethlehem Central School District between the 1980s and the early 2000s — were offered at a nominal price and some donated to the African Dream Academy (ADA) after the furniture did not sell at a public surplus auction.  
The furniture became available after the high school and middle school were outfitted this summer with modern, flexible seating and desks that are being used in all classrooms. The new furniture was purchased with federal COVID relief funds (ARP-ESSER) designed to support students and schools.
Getting the used furniture ready for its overseas travel has been a community effort.
It began with the tenacity of the district's deputy superintendent for buildings and grounds, Ellen Taussig, who was committed to finding a proper home for the unwanted furniture.
"After these desks and chairs didn't sell, I contacted area community agencies and faith-based organizations for leads on who could use the classroom furniture locally," said Taussig. "When I came up empty, I went back to the public auction site and began emailing people who had bid on similar items but had lost. That's how I found the African Dream Academy."
Taussig said the school's founder and CEO, Rev. Samuel Enders, emailed her back immediately and they connected by phone the same day.
Rev. Enders had recently lost out to a higher bidder on furniture from the middle school on the district's public auction site. Enders was thrilled to find out that 3,500 pieces of furniture that had been used at Bethlehem Central High School for decades were now available to him and his school at a very low price and some would be available at no cost.
The not-for-profit African Dream Academy operates early childhood, elementary, junior and senior high school programs in an effort to break the country's cycle of poverty through education.
Once Taussig connected with Rev. Enders in late August, the hard work of figuring out how to get the furniture on its way — and out of the way of students returning to school — began.
Moving trucks that had been promised to Enders were delayed more than once.  And because the furniture had been stored in the high school cafeteria while the summer auction was ongoing, it needed to be moved, and moved quickly, to accommodate staff and students who were starting the school year.
That's when the district's custodial team stepped in to help move 3,500 pieces of furniture from the cafeteria to Upper Gym A.
"These were heavy, awkward items to be moved twice. The entire high school custodial team moved and organized the furniture in the cafeteria and when it had to be moved a second time after it didn't sell, an SOS call went out across the district and several truly awesome members of our custodial team responded," said Taussig. "While the physical moving of thousands of pieces of furniture was fraught with challenges, seeing Rev. Enders' reaction to the 'miracle' of furniture eventually leaving Gym A was worth the true 'sweat equity' we put into ensuring that this furniture is put to good use where it is most needed rather than having to scrap it. I must thank George Petruska for his top-notch organizational skills and everyone who stepped up and rallied in the face of the time crunch, to make this happen."
Some of the district's neighbors also extended a helping hand while the furniture has been waiting to be moved to be put on a cargo ship to travel across the Atlantic to Liberia. The Delmar Presbyterian Church and its pastor, Rev. Karen Pollan, have provided outdoor space for the furniture while transportation to the cargo ship is secured. 
Two shipping containers of furniture left the church on Saturday, Sept. 17. The remaining pieces are awaiting the arrival of a third shipping container.
The desks and chairs will be used by the African Dream Academy's 2,200 students. Only wooden desks have been available to the school until now.
"These desks will be the first modern desks in the entire country for these kids to sit on," Rev. Enders told church officials. "As I stand here today, I am grateful to the Delmar Presbyterian Church for hosting us and I am grateful to Bethlehem High School for helping us acquire these things. These chairs will be a blessing to us. These chairs will changes lives. These chairs will bring joy to kids who sit on these kinds of chairs for the first time."
Superintendent Monroe said the support staff who worked so hard in this effort deserve to be recognized.
"Our district's core values are academics, community, character and wellness and this unlikely back-to-school story touches on all four," said BC superintendent Jody Monroe. "We have improved our classrooms with new flexible desks that can be reconfigured more readily and can adjust to meet the comfort needs of individual learners. But most notably we have seen exceptional teamwork and dedication from our own employees and a spirit of community that is making good things happen for others a world away. I am very proud of their hard work."
Thank you to the following BCSD custodial team members who helped make the furniture sale and donation possible:
• Ellen Taussig, Deputy Superintendent for Buildings and Grounds, O & M
• George Petruska, BCHS
• Heriberto Padua, BCHS
• Dean Brady, BCHS
• Hector Flores Hernandez, BCHS
• Andre Legrone, BCHS
• David Lopez, BCHS
• Brianna Rarick, BCHS
• Justin Santaski, BCHS
• Duane Sweet, BCHS
• Vincent Topino, BCHS
• Terrence Williams, BCHS
• Rhonda Wood Flores, BCHS
• John Slaver, Slingerlands
• Sofia Leon, Slingerlands
• Rodney Schanz, Glenmont
• Bill Schwartz, Elsmere
• Carl Brumley, BCMS
• Robert McElroy Sr., Summer employee
Rev. Enders has promised Taussig he will update the district on the furniture's arrival at the school. It is expected to arrive in 2-3 months.