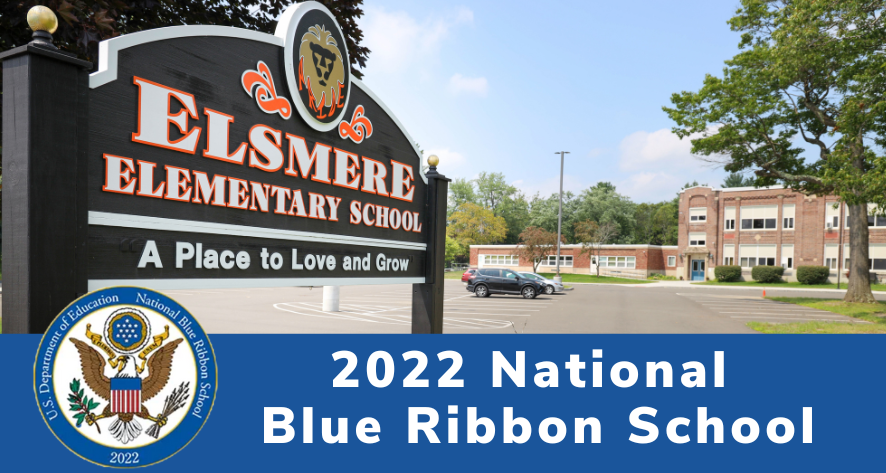 U.S. Secretary of Education Miguel Cardona this morning named Elsmere Elementary School a 2022 National Blue Ribbon School. It is the second time the K-5 school has earned the prestigious national honor. The first time was in 2013.
Elsmere Elementary School is one of five elementary schools in the Bethlehem Central School District. The district serves more than 4,000 students from the towns of Bethlehem and New Scotland in Albany County.
The National Blue Ribbon Schools program honors public and private elementary, middle, and high schools, where students perform at very high levels or where significant improvements are being made in students' levels of achievement. The program recognizes schools in one of two performance categories: "Exemplary High Performing," and "Exemplary Achievement Gap Closing," schools.
Elsmere is being honored in the "Exemplary High Performing" category for having students who have demonstrated outstanding overall academic achievement. There are 264 schools nationwide that are being honored in the same category.
"We were thrilled to hear the news today," said Elsmere principal Kate Kloss. "Though it is our second time receiving this honor, somehow it feels particularly special today, in 2022.
"Throughout the decades Elsmere has been an oasis for children to grow in understanding, work collaboratively, pursue interests and feel safe. Never was this truer than in recent years," said Principal Kloss. "Although the pandemic put the world into chaos, the learning atmosphere at Elsmere has remained joyful and meaningful."
In its 39-year history, the National Blue Ribbon Schools Program has bestowed this coveted award on more than 9,000 schools.
In Bethlehem, three schools have been named Blue Ribbon Schools, including Elsmere. Glenmont School was named a 2019 Blue Ribbon School and also earned the distinction in 1990. Hamagrael Elementary School was a 2009 Blue Ribbon School.
"The dedicated faculty and staff at Elsmere are part of a top-notch group of educators here in Bethlehem who consistently deliver high-quality education for all students in the district," said Superintendent Jody Monroe.
"During a time of immense challenges, these individuals never wavered from their mission and made incredible efforts to support their students. This award reflects that," said Monroe.  "They all have my utmost respect and gratitude."
Principal Kloss said one thing that makes the Elsmere school experience unique is that the school is home to the district's Elementary Intensive Skills special education program.
"Elsmere students have a gift of daily interaction with differently-abled children," said Principal Kloss. "Children grow up recognizing the special contributions and needs of themselves and others. With this understanding, they are able to develop a true appreciation of their important roles in contributing positively to the lives of others, their school and their world."
More information about Elsmere's award and the 2022 Blue Ribbon Schools can be found here.