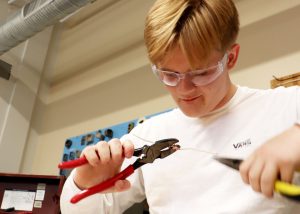 Sometimes, you look at a career future for what it offers – financial security.
Just ask Bethlehem High School junior Liam Fullem, a student in the Capital Regional BOCES Electrical Trades Program at the Career & Technical Education Center – Albany Campus.
Fullem is one of 95 students enrolled in the Electrical Trades program at Capital Region BOCES this year.
The BC student had a rather quick response to being asked why he is pursuing a career as an electrician.
"It's a skill that is always in need …. and you make good money doing it," Fullem said while stripping wires in one of CTE's three electrical labs.
According to the U.S. Bureau of Labor Statistics, the number of jobs in the electrical trades industry is expected to increase by 9% by 2031. In 2021, the median U.S. salary for electricians was $60,040.
October is national Careers in Construction Month and throughout the month Capital Region BOCES – in conjunction with its business and higher education partners – is highlighting the multitude of careers and opportunities that exist in the industry and the students and graduates who are part of the industry.