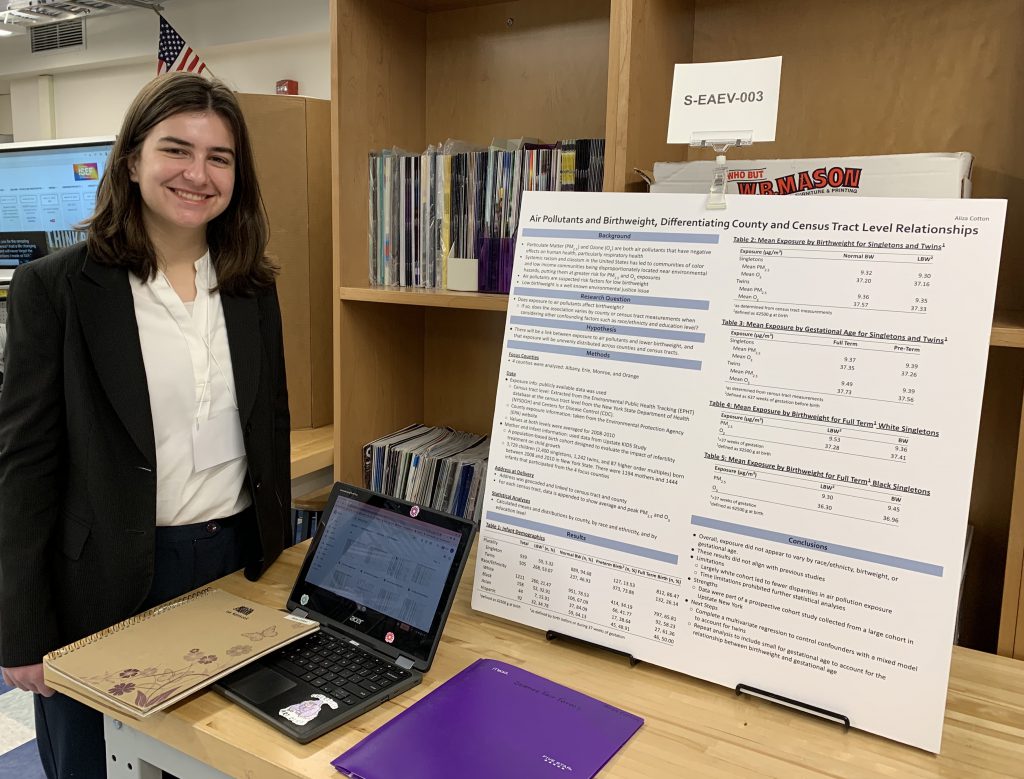 Congratulations to Bethlehem Central High School student Aliza Cotton, who was awarded the National Oceanic and Atmospheric Administration (NOAA) "Taking the Pulse of the Planet Award" as part of the Regeneron Greater Capital Region Science and Engineering Fair last weekend. 
The science fair recognizes students' original research in 21 different categories from animal science to engineering mechanics to systems software. The goal is to foster a better understanding of the nature of science and encourage students to pursue careers in STEM fields.
Cotton presented research on "Air Pollutants and Birthweight, Differentiating County and Census Tract Level Relations" that sought to determine if air pollutants vary by birthweight, race/ethnicity, location, education level, and gestational age.  
The Taking the Pulse of the Planet Award is presented to a student whose research emphasizes NOAA's mission of science, service and stewardship in climate, weather, ocean and coastal sciences.
Cotton said her study, while inconclusive, involved examining several sets of data. 
As part of her work, she looked at a dataset of infants and mothers from a study that was conducted from 2008-2010 that collected maternal and infant health data. The census tract of residence for each mother and infant was then matched to air pollutant exposure from 2008-2010 at each census tract. Census tract data, Cotton said, provided a more specific view of air pollution distribution than county-level data.
"With that data, I was then able to compare mean exposures to air pollution by birthweight, race/ethnicity, and education level," said Cotton.
Cotton is a student in the high school's Science Research class. She credited Dr. Erin Bell, a professor in the School of Public Health at the University of Albany for serving as a mentor to her during her research study. Dr. Bell is also a parent in the district.
Anushka Patel, another Science Research student, participated in the science fair with an entry in the Cellular and Molecular Biology category, entitled "BCL-1 Mutation as a Predictor of Depression and BMI."
The Science Research class at BCHS is taught by Jamie Rowe. The course teaches students skills and methods required to do original research, which may culminate in a senior research project being entered into regional, state and/or national science competitions. The course is primarily a two or three-year sequence course, with students enrolling in their sophomore or junior year and continuing through their senior year.
"Both Aliza and Anushka along with the other seniors in the program have shown a tremendous amount of growth in the past three years and they are all doing some really impressive work," said Rowe.  "In our class, students take control of their learning and decide what they want to research. My role is to help them with some standard skills and methods they will use in their research. After that, I am a resource and the class is all about them and it can take them as far as they want to go with it."
Congratulations to our Science Research students!