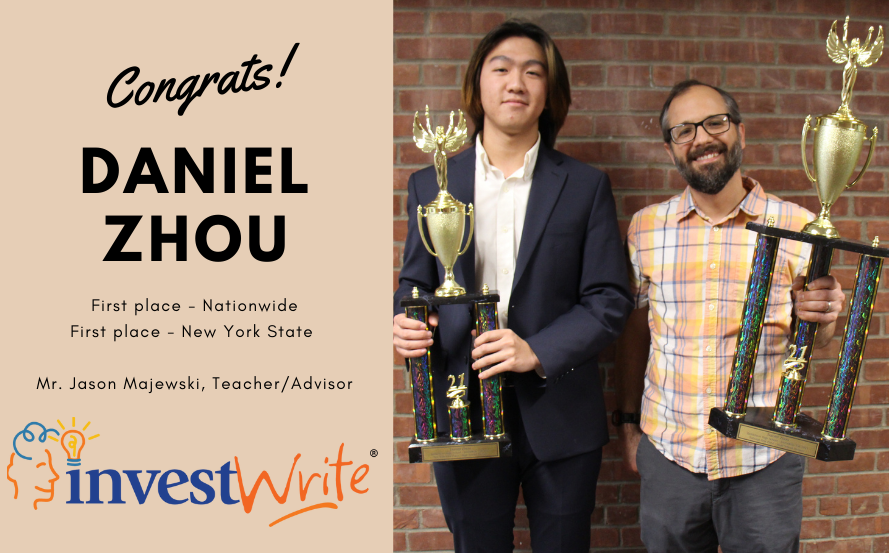 Short-term losses but long-term gain.
That's the way you could sum up BC student Daniel Zhou's experience with this year's Stock Market Game and its culminating activity, the InvestWrite essay contest. While the Stock Market Game gives students the opportunity to build a virtual portfolio over a three-month period, the InvestWrite essay challenges the same students to address real-world financial issues and situations by writing about their long-term investment strategies. 
And while Zhou's virtual short-term investments tanked over those three months, his essay soared. 
The most recent InvestWrite competition challenged students like Zhou to describe an investment portfolio of stocks, bonds and mutual funds in sectors destined to transform the future, from technology to medicine to transportation.
By choosing space exploration as the final frontier for young investors, Zhou described his investment plan as one featuring companies and investments that in his words will "back the innovation that catalyzes and supports the efforts to carry humanity into a new era." With captivating writing and ideas, the BC senior's essay wowed a panel of experts and has been judged to be the best in the country, out of nearly 2, 800 high school entries.
The InvestWrite essay contest and the Stock Market Game are financial education programs sponsored by the SIFMA Foundation. SIFMA is the leading trade association for broker-dealers, investment banks and asset managers operating in the U.S. and global capital markets. For more than a decade, the programs have been part of the BC experience for students of Jason Majewski, who teaches economics at the high school.
Zhou and Majewski were both recognized Thursday, Mar. 24 with the surprise announcement that Zhou was both the New York State winner and the national InvestWrite winner. That announcement was made by SIFMA Foundation representatives, including the foundation's president Melanie Mortimer.
"SIFMA Foundation congratulates Daniel and his teacher on this remarkable achievement," said Melanie Mortimer, President of the SIFMA Foundation, who joined the celebration via Zoom. "They are a powerful example of the impact our programs can have in classrooms nationwide. We are preparing youth to navigate the capital markets and financial decision-making, equipping them early on for lifelong success."
Zhou explained to Mortimer that his interest in space exploration came about through his role on the school's speech and debate team.
"I do public forum debate and one of the topics was about the Space Force," said Zhou, who runs a Speech and Debate summer camp. "My research into that was how I first came to understand the potential of this industry and some of the companies that were involved with space exploration as a whole."
Zhou used some of that research to identify companies and investment funds that he thinks will be at the forefront of space exploration or space-based defense systems.  His essay, which can be read below, and the 2,666 other high school entries were judged by a network of 2,000 investment professionals who work at institutions such as  Fidelity Investments, Deloitte, Morgan Stanley and the European Central Bank.
At the announcement on Thursday, Zhou was presented with several prizes, including two large trophies, a $750 Amex gift card, a banner and more. For his role, Mr. Majewski also received a $750 prize. An additional $100 is being made available to fund a classroom celebration.
Bethlehem Central High School has had several top InvestWrite and Stock Market Game finishers, including four other InvestWrite New York State first-place winners. 
"There is quite the legacy at Bethlehem Central High School," said Liz Reidel, national director of the SIFMA Foundation, who delivered the trophies to Zhou in person. "You are at the top of the heap."
The goal of the InvestWrite competition is to ensure young people are exposed to the essentials of personal finance early in life and to encourage students to consider careers in financial services.
Zhou, who is planning to attend Dartmouth in the fall, admits he is considering a career path in business but also has aspirations that hit closer to home.
"I'm thinking I want to go into finance but ultimately I'd like to be a high school teacher," said Zhou.
Superintendent Jody Monroe, who attended the surprise celebration along with high school principal Dave Doemel, cheered Zhou's response by saying, "You're hired!"
Congratulations to Daniel Zhou and Mr. Majewski! 
Winning Essay by Daniel Zhou – Capitalizing on the Cosmos
Space is no longer the great unknown. What was once an unexplored territory has been marked by humans in numerous ways. Rovers, probes, and landers have reached the Moon, Mars, Venus, Titan (Saturn's moon), one comet, and two asteroids. Voyager 1, a spacecraft launched in 1977, is now fourteen billion miles away from the Earth, and is currently in interstellar space. As such, space is the ideal domain to invest in for young individuals due to its potential for great growth. A longer time horizon and greater risk tolerance suggest that initially, a large majority of one's portfolio should consist of individual stocks and Exchange Traded Funds (ETFs). Detailed below are companies that will back the innovation that catalyzes and supports the efforts to carry humanity into a new era.
The proliferation of spacecraft launches is inevitable in the future. The number of launches has increased yearly and will likely continue to increase as technology improves and the untapped potential of space is realized. Thus, companies such as Aerojet Rocketdyne (AJRD), Astra Space (ASTR), and Rocket Lab (RKLB), which all specialize in building rockets and launching satellites and spacecraft into space, would be wise investments as these companies form the backbone of the space industry. Without advanced rockets and propulsion systems to fire objects into orbit and keep objects in orbit, it would be impossible for the space industry to function, making these companies crucial to future success.
After a spacecraft or satellite is launched, the possibilities are endless regarding the function of such objects. One role that satellites can play in the global economy is by providing internet access to people all over the world. Iridium Communications (IRDM) and SpaceMobile (ASTS) are two companies that have been pioneers in this field and have already provided connectivity to millions of people. Iridium Communications operates a constellation of satellites which enables communication at any place on the globe while SpaceMobile is currently building a space-based cellular broadband network to provide connectivity to smartphone devices anywhere in the world. These companies have great potential to be the future in innovative communications networks.
Spacecraft and satellites also play an important role in scientific discovery. Boeing (BA) is an excellent investment as they have created spacecraft that are collecting data and making discoveries. Boeing's X-37 spacecraft is currently being used to test the capabilities of space-based solar power, which if successful, could revolutionize energy use on Earth. Even the International Space Station is maintained by Boeing, aboard which astronauts conduct critical experiments. Boeing's spacecraft have been trusted by the scientific community, and as space is further explored, Boeing's role will become all the more important.
There is a certain excitement surrounding space, and as humans continue to become dissatisfied with vacation options on Earth, they will look upwards to the stars to fulfil their desires. A company leading the space tourism field is Virgin Galactic (SPCE). Virgin Galactic focuses on building vehicles and providing services pertaining to out-of-this-world leisure. They have already successfully launched their CEO Richard Branson into space on a Virgin Galactic space plane, and just recently gifted a free ticket to space to a civilian. As these flights into space increase, space as a vacation destination will become more popular, and investment opportunities such as Virgin Galactic will become profitable.
But as more and more satellites and spacecraft enter orbit, the risk of collision between these objects increases. Thus, services that can track these orbiting objects will be imperative. A company that plays a large role in tracking objects, in addition to manufacturing of rockets and spacecraft, is Lockheed Martin (LMT). Lockheed Martin created the Space Fence, which detects, tracks, and measures all types of space objects to prevent any catastrophic collisions. The role of the Space Fence will only become more important in the future, and similar technologies will certainly be in heavy demand in the future. Innovations by Lockheed Martin will ensure that there will be fewer accidents and make space a safer domain for all.
But unfortunately, as history has shown, there is a possibility that the march into space will lead to conflicts between nations. Indeed, the United States has already created the Space Force, a branch of the military to defend the nation's space possessions. As other countries follow suit, it could be advantageous to invest in Northrop Grumman (NOC), a defense company that will be vital in protecting the nation against any threats in space. Northrop Grumman has already created missile warning and space defense systems to deter and mitigate attacks. It is almost certain that the space defense industry will grow, creating vast job opportunities and pushing technology to new limits.
In addition to the aforementioned stocks, there are two ETFs which may be strong investments. The SPDR S&P Kensho Final Frontiers ETF (ROKT) has holdings in Raytheon (RTX) and Honeywell (HON), which both create technologies like sensors, advanced software, and communication devices used in spacecraft and satellites. In addition to this, the ARK Space Exploration & Innovation ETF (ARKX) has holdings in Komatsu (KMTUY) and Amazon (AMZN). Komatsu is a Japanese company that creates space construction technology while Amazon owns a satellite constellation, Project Kuiper, which aims to provide broadband internet access to the world. The holdings for these two ETFs are far more expansive than those mentioned, but in general, the companies in these ETFs are space oriented and headlining the space revolution.
As the future dawns upon humankind, the trek into space will progress. There is much uncharted territory, but there is also endless innovation. The growth that this industry will experience in the future will be great, and the potential for financial gain is massive as well. These suggested investments span many different sub-sectors related to space, which provides a safe level of diversity in the case that one sub-sector never achieves its expected growth. Space is the future and investing now could spell some great gains.