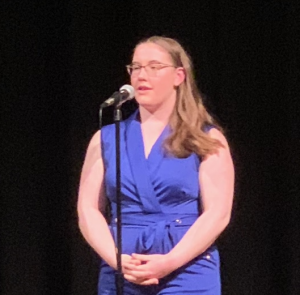 On Saturday, Mar. 11, Bethlehem Central High School student Pamela White will defend her title as New York State Poetry Out Loud champion as she returns to the statewide recitation contest for the second year in a row. 
The BCHS senior will compete as one of 20 students hoping to represent the Empire State in May at the national Poetry Out Loud competition in Washington D.C. 
Last year, White was one of the top nine finalists nationwide and took home a $1,000 prize at the national competition.
White earned a spot in this year's statewide finals after winning the regional Poetry Out Loud competition on Feb. 24 at Hudson Valley Community College. She was one of two BC students who competed on the regional level. Laurel Meunch (grade 9) also took part in the regional contest. The duo had finished first and second, respectively, in the school's Poetry Out Loud contest held in December. It was the fourth year in a row that White won the school competition.
"I commend both Laurel & Pam for their hard work preparing for the regional competition," said Andrew Rickert, an English teacher at the high school who organizes Poetry Out Loud at BC. "Both Laurel and Pam recited flawlessly and could have been among the finest BCHS performances I've ever witnessed at the Regional.
"The overall quality of the contest was a big step up from last year. The emotion felt by the audience was palpable," said Rickert.
For the state competition, White will travel to the Center for Fiction in Brooklyn where she will recite classic and contemporary poetry in three rounds. It is the first time since 2019 that the New York State Poetry Out Loud competition will take place in person.
She said she is excited to get back to in-person competition after competing virtually in last year's NYS finals. The poems White will recite are:
"Cartoon Physics, part 1" by Nick Flynn;
"A Wing and a Prayer" by Beth Ann Fennelly; and
"Envy" by Mary Lamb.
"This will be the first time I have ever gotten to compete in a live POL competition above the regional level," said White. "It will be super interesting to compare the two mediums of performance and competition, from virtual to now in person."