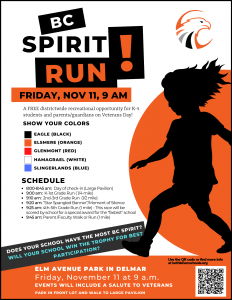 NOTE: Registration for the K-5 Spirit Run is now CLOSED.
For those who are registered:
Please use the front parking lots to alleviate traffic delays at the back-end of the park. Please reserve parking at the rear of the park for Volunteers, Veterans, and Handicapped access only.
Walk towards the tennis courts to access the starting line area near the Large Pavilion.
The only runners who need to check in are the 4th and 5th graders who will wear a bib for their 1 mile race.
The only race we will compile results for is the 4th/5th grade mile. All other races will be unscored and purely for fun. 
Please remember to wear the color that represents your elementary school:

Eagle – BLACK
Elsmere – ORANGE
Glenmont – RED
Hamagrael – WHITE
Slingerlands – BLUE
Runners should look for their "School Captains"
8:45am: Runners from the high school cross country team will serve as "School Captains" to lead a warm-up and stretching routine. These "Captains" will be holding up signs to help indicate where to go.
Courses will be marked by white paint and orange flags and we will have volunteers guiding runners so there is no need to run along with your child (unless they want you to in the younger races)
The 1/4 mile course is one loop around the field and large pavilion.
The 1/2 mile course is two loops around the field and large pavilion.
The 1 mile course runs out along the road down into the lower loop trail. It will finish up the sledding hill before making a left turn and finishing along the roadway. 
Updated race schedule
The race schedule has changed based on the size of the races:
9:00am – Kindergarten .25 mi.
9:05am – 1st Grade .25 mi. 
9:10am – 2nd Grade .5 mi. 
9:20am – 3rd Grade .5 mi. 
9:30am – Salute to Veterans & Star-Spangled Banner
9:35am – 4th/5th Grade 1 mi. 
9:55am – Parent/Faculty 1 mi. 
10:10am – Announcement of the Spirit Award Winner (take a photo w/your team)