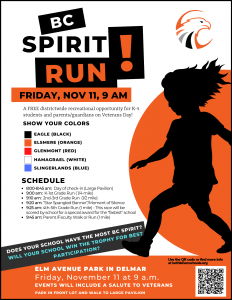 Does your school have the most school spirit? 
This year, BCSD will host a free districtwide recreational activity for K-5 families on Veterans Day. Each of our five elementary schools will compete; the elementary school with the most participants will win a trophy and a special award will be given to the fastest school. The event will include a salute to Veterans.
Participants should park in the front lot and walk to the large pavilion at Elm Avenue Park in Delmar for check in from 8-8:45 am. 
The Spirit Run's Schedule is as follows:
8-8:45 am: Day of check in (Large Pavillion)
9:00 am: K-1st Grade Run (¼ mile)
9:10 am: 2nd-3rd (½ mile)
9:25 am: 4th-5th Grade Run (1mile) – This race will be scored by the school for a special award for "fastest" school.
9:45 am: Parent/Faculty Walk or Run (1 mile)

Each school has been assigned a color to wear to the run listed below:
Eagle – Black
Elsmere – Orange
Glenmont – Red
Hamagrael – White
Slingerlands – Blue
As of Friday, Oct. 28, more than 200 students had pre-registered. There will be an award for best participation rate. As of Friday, Hamagrael was in the lead, Elsmere was second, Slingerlands was third, Glenmont was fourth, and Eagle was fifth.
To represent your school and register for the Spirit Run, click here.