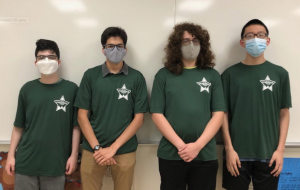 On Wednesday, June 2, a group of BCHS computer science students participated in the annual Siena College High School Programming Contest. It was a tremendous effort by all 16 BC students but it was one team of four that came out on top, ahead of 30 other teams from across the state to win first place in the challenging online competition.
That winning team — the Bethlehem D team — included students Albie Snyder (grade 11); Nikhilesh Radosevich (grade 10), Eric Jestel (grade 11) and Charlie He (grade 11). The team completed five out of seven incredibly challenging programming problems in the contest's Green division which is designed to test the abilities of students in their first year of a computer programming course. The D team won by completing the five problems — the most completed by any team — in a record three hours and 16 minutes.
A second team of Bethlehem students also completed five of the seven programming problems, an outstanding accomplishment. The Bethlehem C team included students Katy Cable (grade 12), Gordon Su (grade 11), Daniel Zhou (grade 11), and Sophia Soka (grade 11).