Bethlehem Central School District faculty and staff officially began the 2022-23 school year Wednesday as they began settling into classrooms and buildings across the district ahead of students who will return to school on Tuesday, Sept. 6.
The day included the traditional opening remarks from Superintendent Jody Monroe and a warm welcome from Board of Education president Holly Dellenbaugh. 
In her opening remarks, Superintendent Monroe emphasized the importance of building healthy relationships between staff and students, and colleagues. 
"I have become increasingly concerned about where we are headed with our relationships," Monroe told faculty and staff. "I am not referring to any specific relationship, but in general, societal relationships where we are lacking the ability to engage in respectful and meaningful ways."
Monroe encouraged BC staff to listen to one another but also to talk more and share more to build important relationships and strengthen the school community.
"We talk a lot about getting to know our students, but I think we sometimes overlook the fact that allowing them to get to know us can be very powerful and lead to closer relationships," said Monroe.
Superintendent Monroe said relationship building was integral to the district's three goals for the 2022-23 school year. The goals and a series of action steps within the areas of academics, character, community and wellness will be an important foundation for the new school year. she said.
The goals include:
Cultivating culturally responsive faculty, staff, and administration;

Increasing academic rigor and accountability while also maximizing student social-emotional growth and mental & physical health; and

Increasing community engagement.
As always, part of the opening presentation was used to introduce new employees to the district and to celebrate employee milestones.
Employee Milestones
25 Years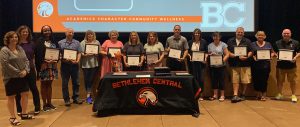 Lisa Carr, Ed.D., Guidance Counselor – BCHS
Michelle Curtis, Secretary – Human Resources
Kevin Hunter, School Bus Driver – Transportation
Kirsten Hynes, Math Teacher – BCHS
Lisa Kniffin, Science Teacher – BCHS
AnnMarie Marsh, RN – School Nurse – BCHS
Kimberly Montalvo, Reading Teacher – Eagle
Mark Nealon, Physical Education Teacher – BCMS
Leslie Obermayer, Elementary Teacher – Eagle
AnnMarie Oullette, Classroom Aide – BCMS
David Scheid, Math Teacher – BCMS
Marie Spain, Secretary – Eagle
Jason Wood, Physical Education Teacher – BCMS
30 Years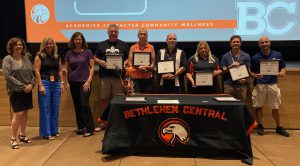 David Beck, Music Teacher – BCHS

Mary Davis, School Bus Monitor – Transportation

Jeff Klamka, World Language Teacher – BCMS

Todd Tyler, Science Teacher – BCMS

Kimberly Wise, Math Teacher – BCHS

WIlliam Wojcik, ELA Teacher – BCHS
35 Years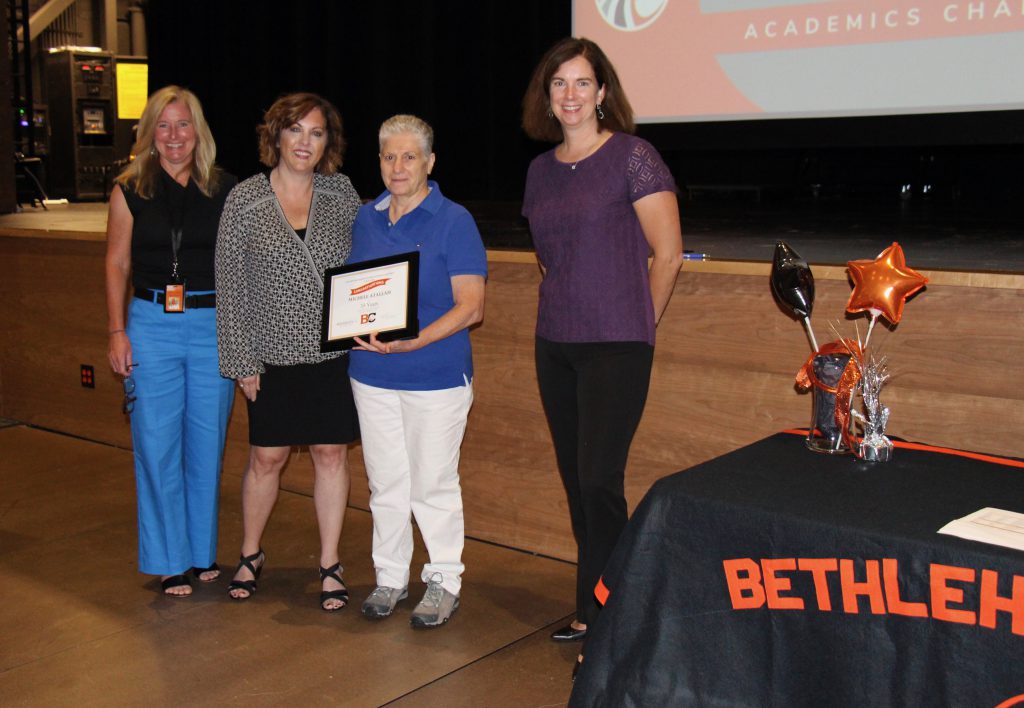 Michele Atallah, World Language Teacher – BCHS
Atallah, who teaches French at the high school and is known to her students as Madame Atallah, received a standing ovation from colleagues across the district and a special acknowledgment from Superintendent Monroe.
"When we talk about building strong relationships, Michele has set a high bar for establishing a warm rapport with her students. She is a role model for all of us," said Monroe.