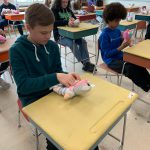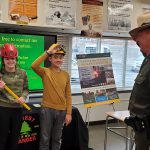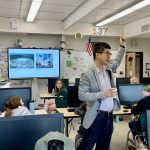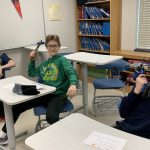 On Thursday, Mar. 17, grade 7 students had the opportunity to learn about a variety of careers. More than 30 volunteers shared stories about their jobs and about the journeys they have taken in their careers. 
Thank you all for making this year's Career Day at BCMS informative and fun!
Public Health, Public Administration, Public Safety  
Gregory McMullen/ US Air Force
Bill Ketzer/ Government Affairs
Kevin Grossman/ Labor Relations
Michael O'Connell/ NYS Police Investigator
David Pachan/ NYS Forest Ranger Lieutenant
Daphne Orlando/EcoPetites
Susan Rizzo/Albany County Comptroller
Maria Bernard-Quality Assurance Specialist
Sara Phelps/ Assistant Director NYS Dept of Health
Joshua Kapczynski/ Firefighter & Paramedic
Alison Bosko/Nurse Practitioner, Midwife
Erica O'Brien/Registered Nurse
Health & Human Sciences     
Deepa Rajulu/Director of Epidemiology        
Jon Rice/Social Worker          
Jason Heckman/Surgeon
Jennifer Hebner/Pharmacist
Drew Smith/Former Pro Athlete and Personal Trainer
Alan Condon/Empire Defense & Fitness
Business, Finance & IT
Alma Kanić Franco/Director of Operations for SUNY Community Colleges
Brian Degener/ Real Estate Investor
Jason MacLaughlin/ Manager of Clinical Applications
Steven Despres/Senior Policy Advisor for the SEC
Kevin & Jen Frick/Family Trucking Company Owners
Marc Agel/ Financial Advisor
John Scicchitano/International Businessperson
Sandy Ilardi/Daycare Owner
Grazia Yaeger/ Director of Marketing
Tereza & Jeff LaBelle/ Sparkle Klean
Communications, Education & STEM
Michael Tuman/Mechanical Engineer
Christy Doyle/Director of University Events at UAlbany
Jeff Schneiderheinze/Senior Director at Regeneron
Joel Dzekciorius/CEO of Manufacturing Company
Dong-ha Chung/Architect      
Dan Bolke/Civil Engineer-Senior Engineer Water & Sewer Dept.
Elissa Baker/Director for Distance & Online Learning for HVCC
Craig Westphal/Analytical Chemist
Brian Kugler/Global Pricing Director for Renewable Energy at GE
Lauren Spector/ Writer for Albany Times Union
Philip Grenz/Talent Agent in Hollywood

Elissa Baker/Director for Distance & Online Learning for HVCC
You can view Career Day photos on the district's Facebook page.