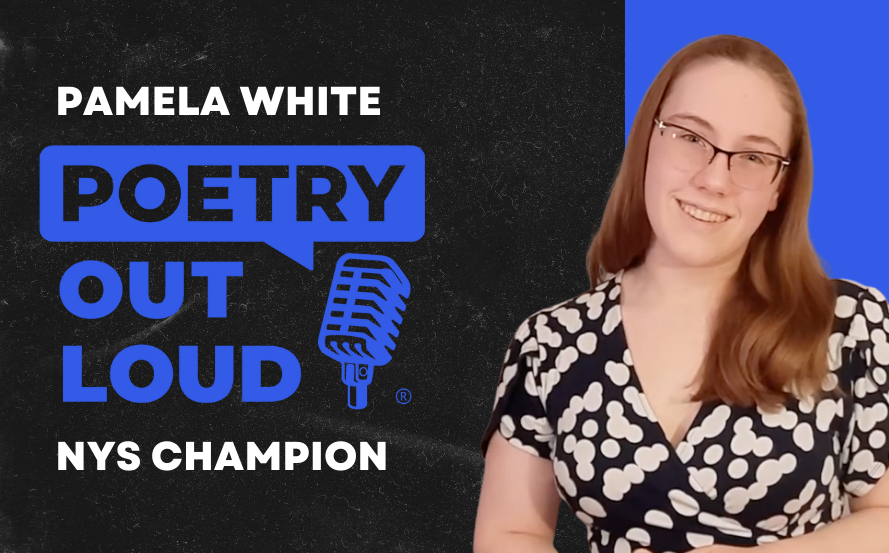 On Mar. 12, Bethlehem Central High School junior Pamela White was named winner of the New York State Poetry Out Loud recitation contest.
White will now move on to represent New York State at the 2022 Poetry Out Loud National Finals where winners from all 50 states — as well as the District of Columbia, Puerto Rico, American Samoa, Guam and the Virgin Islands — will compete for more than $50,000 in awards.
White said she was shocked when she won the state title, admitting she didn't expect to make it to the state finals.
"Honestly, I was dumbfounded when I got to move on from the regional competition so winning the state competition and getting to compete with students from all over the country while representing New York State is just so exciting," said White.
Poetry Out Loud is a program of the National Endowment for the Arts and the Poetry Foundation to encourage high school students to learn about great poetry – both classic and contemporary – through memorization, performance, and competition.
Sixteen regional finalists from across New York State, including White and BCHS sophomore Sofia Corts, competed for the state title. Each student recited three poems and was judged in several categories including physical presence, voice and articulation, dramatic appropriateness, evidence of understanding and overall performance and accuracy.
White's winning recitations included the poems:
Candles by Carl Dennis
Oranges by Roisin Kelly
In a London Drawingroom by George Eliot
The state-level competition was presented in partnership with the New York State Council on the Arts and Teachers & Writers Collaborative. As the New York State Champion, White receives an individual prize of $200. Another $500 will be awarded to Bethlehem Central High School to be used for more poetry resources for students.
You can view the 2022 Poetry Out Loud NYS Finals on YouTube.
The national poetry recitation contest begins at the school level. Since 2005, more than four million students have participated in Poetry Out Loud.
At Bethlehem Central High School, Poetry Out Loud was first introduced to students in the 2017-18 school year by high school English teacher Andrew Rickert. 
"I am overjoyed for Pam," said Rickert. "Her success is truly attributed to her hard work. She studied her poems closely for any subtle nuances that her recitations could highlight and I think the judges saw that.
"I love seeing BC students make it to the State final," said Rickert. "We've done that a number of times now and are building our reputation as a program to the point that when you see a student from BC, you'd better look out because they're prepared to really move people."
White says she looks forward to representing New York State in the national competition and serving as a role model for other students who may be exploring poetry for the first time. The national competition will be held virtually this year.
"Even though it is a little bit of a bummer not to get to perform in person, all of the state finalists get to work with a professional recording team to record their poems for the national competition," said White. "As a performer, that's kind of a dream come true!"
The national semifinals are May 1.  The top nine students will advance to the national finals on Sunday, June 5th. Both the semifinals and finals will be streamed by the National Endowment for the Arts at arts.gov.
"When Amanda Gorman spoke at the inauguration of President Joe Biden, people around the nation were exposed to the power of poetry, and saw how much skill and creativity it takes to bring a poem's words to life," said Amy Stolls, director of Literary Arts at the National Endowment for the Arts.
Pamela White agrees and said she hopes other BC students give Poetry Out Loud a try.
"Find a poem that has a story you want to portray and just do it," said White. "The worst thing that can happen is you don't get to move on from the school competition, but if you just take the chance, you'll meet some great people and get to enjoy a wide range of fascinating poetry."
Congratulations to Pam on this amazing honor!