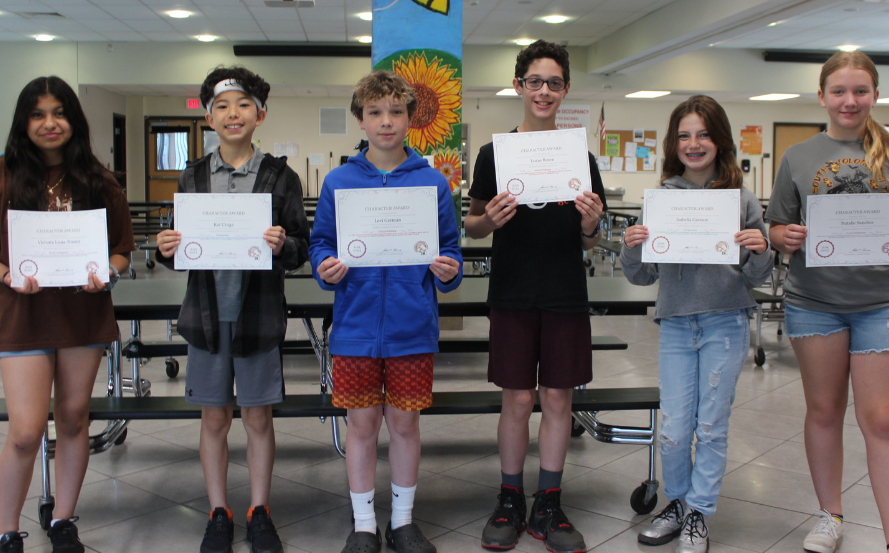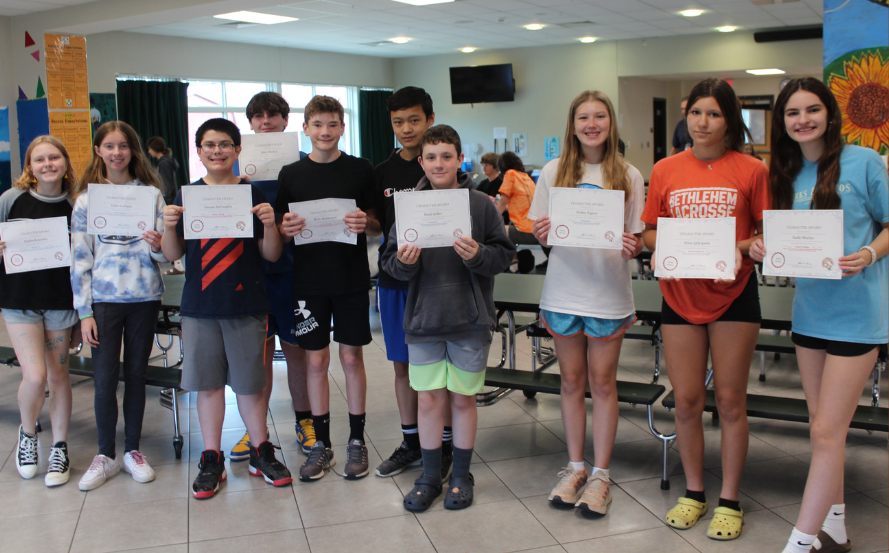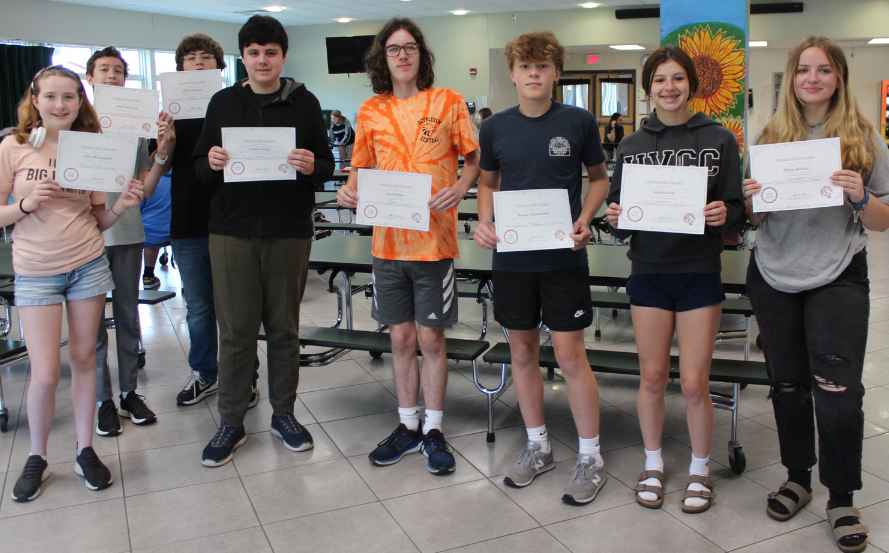 On Thursday, June 15, nearly three dozen students in grades 6 through 8 were honored with a special award and were treated to breakfast after being selected by teachers for consistently demonstrating positive character traits.
The breakfast was the final Character Celebration this year at the middle school. Each quarter, students are honored for specific observed character traits outlined in the BCMS Pillars of Character. Each team nominates students who have demonstrated one of the highlighted character traits on a consistent basis.
Assistant Principal Jackie Munroe told the group that they should be especially proud of their end-of-the-year honors.
"There are a lot of distractions as we get close to the end of the year," said Munroe. "It's really admirable that each of you has been singled out for staying the course and continuing to be peer leaders all the way into June. We are very proud of all of our character award recipients."
The following students were recognized for demonstrating the character traits of social intelligence, critical thinking, perspective and forgiveness.
Congratulations to our fourth-quarter honorees!
Hudson
Grade 7
Alina Ajdarpasic – Alina has a very infectious, positive attitude and laugh.
Myles Bichteman – Myles is a very conscientious student, who always puts forth his best effort.

Hailey Eignor – Hailey demonstrates a great deal of focus and maturity.

Sadie Marino – Sadie is a very conscientious student, who always puts forth her best effort.

Rand Zoller – Rand demonstrates a great deal of focus and maturity.
Grade 8
Sheridan Lyons – Sheridan avoids getting trapped in small details and is able to consider bigger issues. Sheridan always considers what is best for the given situation. She has a wonderful way of seeing the world.

Elise Riley – Elise understands the importance of interpersonal relationships. She has developed a structure of respect among her peers and teachers. She is a truly wonderful member of Hudson 8.

London Wilder – London avoids getting trapped in small details and is able to consider bigger issues. He always considers what is best for the given situation. He is truly a great member of the Hudson 8 team!

Nihal Yigit – Nihal is a well-rounded individual who is an active listener, an effective communicator and open-minded. They see the broader view and may challenge the status quo for the greater good.
Mohawk
Grade 6
Isabella Cascione – Izzy is respectful and empathetic to all her classmates. She sets an example for model character and helps others forgive by spreading kindness in her daily actions.

Natalie Hubalek – Natalie tries her best in all her subjects and is able to see the different viewpoints of her peers and characters in stories she reads in English class.

Victoria Luna-Nunez – Victoria is observant and mindful in her interactions with others. She is always willing to help and listens carefully to her teachers and classmates.

Lucas Rosen – Lucas is always using techniques to help him answer questions and think outside the box.
Grade 7
Taylor Corrigan –  Taylor is so kind and always aware of situations. She is inclusive of all students and has great conversations with teachers.

Sophia Krasutsky – Sophia is always aware of what's going on. She has a great understanding of how to express her point of view without hurting anyone's feelings.

Duncan McCaughin – Duncan offers very thoughtful answers in classes. He knows how to adapt his knowledge to answer more challenging questions.

Samantha Oakley – Sammie participates in class. She includes her peers in group work and offers great insight to class and group discussions.

Riley Whelan – Riley is always aware of situations, and he knows how to participate thoughtfully in conversations.
Grade 8
Cora Belle Allen – Cora really is smart and determined. She had the ability to adapt and that perspective is unique and refreshing. The Mohawk 8 teachers are proud of her and wish her continued success at BCHS!

Rowen Chamberlain – Rowen is a smart, forgiving and mature young man. His quiet leadership and unwavering ability to see the good in all students make him unique and wonderful!

Elliot Chapman – Elliot is a brilliant student that shares his thoughts and perspectives in a mature and kind way. He is unique and the Mohawk 8 teachers know that he will do great things!

Krishna Das – Krishna is a student that sees the "big picture" and is always upbeat. He is polite and mature and Mohawk 8 will miss him!

Noah Eisenberg – Noah is a deep thinker that is universally recognized as intelligent and articulate. He is also a great kid!

Isabella Kirk – Isabella (Izzy) understands how to include others and works well with all students. She is a bridge builder and she makes BCMS a better place.

Varvara Lyakh – Varvara is a brilliant student and a wonderful kid. She works hard and has a wonderful personality. She amazed her teachers every day with her smile and her mind!
Jesse Melas – Perspective means being able to see what is truly important and Jesse does that better than anyone. He is among the best of the best and it has been a pleasure to watch him mature into such an excellent person.

Jillian Richter – Jillian interacts with every group of students effortlessly. She understands what is going on around her and is wise beyond her age. She is a leader and she has compassion. She is an asset to BCMS.
Patroon
Grade 6
Levi German – Levi takes his time with his work and uses a variety of strategies to solve problems. Levi is not afraid to ask for help and wants to learn to maximize his potential.

Natalie Sanchez – Natalie works well and gets along with all different students. She initiates conversations with peers and adults. Natalie stays on task during class and is a role model for others.

Kai Uruga – Kai is able to see situations from other people's points of view. In class, he is excited to share his perspective but also values his peers' perspectives.
Grade 8
Grace Bosworth – Grace leads by example and shows her peers understanding and patience.

Vivian Graf – Vivian thinks creatively and offers great questions when she works in a group. She is able to think beyond the task at hand and connect ideas to the real world.

Kairav Jerabek – Kairav contributes super questions and thoughtful out-of-the-box thinking.

Jude MacLaughlin – Jude can see the best in anyone. Jude is understanding and patient.

Saniyah Williams – Saniyah has done a great job as a new student. She knows that hard work pays off and is a thoughtful friend.