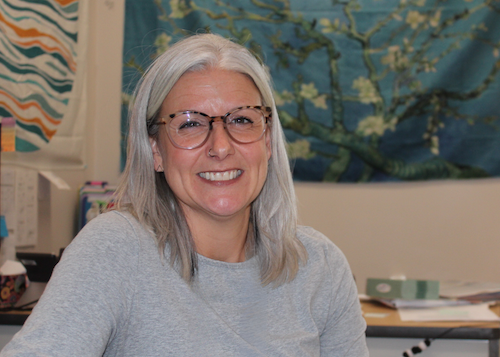 At a reception to be held this evening in Albany, school counselor Carla Young will be honored by her professional peers across the state as New York State Counselor of the Year.
The New York State School Counselor Association (NYSSCA) School Counselor of the Year Award recognizes school counselors as leaders in their profession who devote their careers to serving as advocates for New York students, addressing their academic, social-emotional, and career development.  
Young is a counselor at Bethlehem Central Middle School serving primarily sixth graders. She was nominated for the statewide award by high school counselor Darnell Douglas and other colleagues from the K-12 counseling team at BC.
In his nomination of Young on behalf of the department, Douglas wrote, "Carla educates herself on challenges faced by students, school counselors, guardians and all other stakeholders. She has become a master in research and data collection. With this information, she is always willing to hold others accountable where needs are the greatest and ensures the work remains student-centered at all times.
"She is a force in her craft and has a passion for this work that is undeniable," he said.
In addition to her traditional counselor role, Young also facilitates the Beautiful Me program at the middle school focusing on student self-esteem. She also serves a critical role in helping middle school students become more responsible digital citizens. Along with Principal Mike Klugman, she helped create a cell phone course for parents and guardians to attend with their students. This week, she challenged sixth graders to try to do their homework without distraction: no cell phones, no YouTube, close all unused tabs, no video games and no TV.  The five-day Sixth Grade Challenge is currently underway at BCMS thanks to Young.
"I am proud of our entire counseling team but it's easy to understand why Carla Young is being singled out by her peers for this award," said Superintendent Jody Monroe. "She wears her heart on her sleeve, always has a smile on her face and simply never lets her enthusiasm be dimmed by a challenging situation. She tackles issues as difficult as racial justice, sexual harassment and cyberbullying with a reassuring manner that makes you believe one person can indeed make a difference."
Several of Young's colleagues will be at the awards ceremony on Friday evening to support her.
"I feel very honored to be receiving this award," said Young. "I am especially grateful that I was nominated by colleagues that I respect and admire. I feel fortunate to be part of a district that recognizes and supports the need for Social-Emotional Learning across all grade levels."