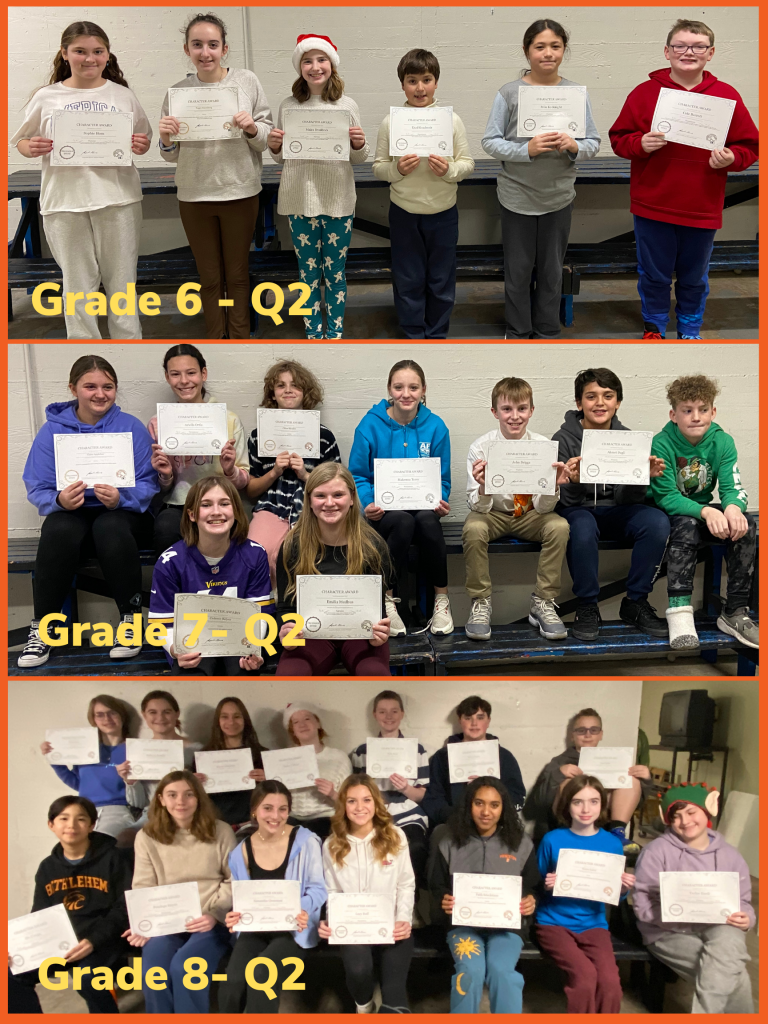 Nearly 40 middle school students were treated to a special celebration last month where they enjoyed their own "Pit Party" after being selected by teachers for demonstrating positive character traits.
The best part of the celebration? They each got to bring along a friend.
Several times a year, as part of the school's Character Education Program, students are honored for specific observed character traits outlined in the BCMS Pillars of Character. Each team nominates students who have demonstrated one of the highlighted character traits on a consistent basis.
The following students were recognized for demonstrating the character traits of bravery, persistence, fairness, creativity and purpose.
Congratulations to all!
Maayan Amsterdamer – Creativity
Claire Applebee – Bravery
Akshaj Banavali – Fairness
Cole Barrett – Persistence
Esad Bozdemir – Persistence
Maira Braddock – Fairness
Lucy Buff – Persistence
Ahmet Dagli – Purpose
Jaiyana Daniels – Persistence
Miriam Diop – Bravery
John Driggs – Purpose
Poppy Eisenberg – Bravery
Victor Franco – Fairness
Samantha Grossman – Purpose
Jeremiah Hayles – Creativity
Sophie Horn – Purpose
Oliver Hosang – Purpose
Taylor Ilardi – Fairness
Milo Ko Knight – Purpose
Daniel McNabb – Bravery
Emilia Medhus – Fairness
Penelope Meyer – Persistence
Eleanor Naidus – Bravery
Michael Novokhatskyi – Creativity
Maeve O'Brien – Purpose
Ariella Ortiz – Persistence
Jessica (Beatriz) Pacheco Caguana – Bravery
Rylie Rask – Creativity
Maxum Reagan – Bravery
Cadence Relyea – Creativity
Chloe Rhodes – Creativity
Kathryn Sabella – Creativity
Faith Scicchitano – Creativity
Liam Smith – Bravery
Echo Smits – Creativity
Makenna Terry – Persistence
Ziv Uruga – Fairness