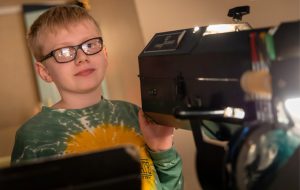 Could you imagine a world without the internet? What about a trip down memory lane by becoming a middle school student again? 
The students in BCMS Staged Creations will display both scenarios when it presents an evening of one-act shows Thursday, May 4 – Saturday, May 6 at 7 p.m. 
The shows will be held at the BCMS auditorium.
The group will perform  the shows The Day the Internet Died and The 10 Best/Worst Things About Middle School. Learn more about each show below. 
Tickets will be for sale at the door:
$8 for adults
$5 for students
$5 for seniors
The Day the Internet Died by Ian McWethy & Jason Pizzarello
On a sunny day in the town of Bloomington, a devastating occurrence happens. No, it's not famine, or floods, or loss of your basic rights. The internet has gone down! And it will continue to be down! For a week! A whole week! Pandemonium! In a world that is so dependent on the internet for shopping, mailing, and posting pictures of cute babies, how will society function? Not well as it turns out.
The 10 Best/Worst Things About Middle School by M.G. Davidson
Ah, middle school. The best worst years of your life! The friends, the memories, the life lessons, and of course the…inevitably haunting embarrassments that will leave emotional scars for years to come! Join a group of real life middle school students as they uncover the wonders perils of their first dance, the marvels horrors of field trips, the joy humiliation of gym class, and many more of the numerous fond traumatizing aspects of life as a middle school student.