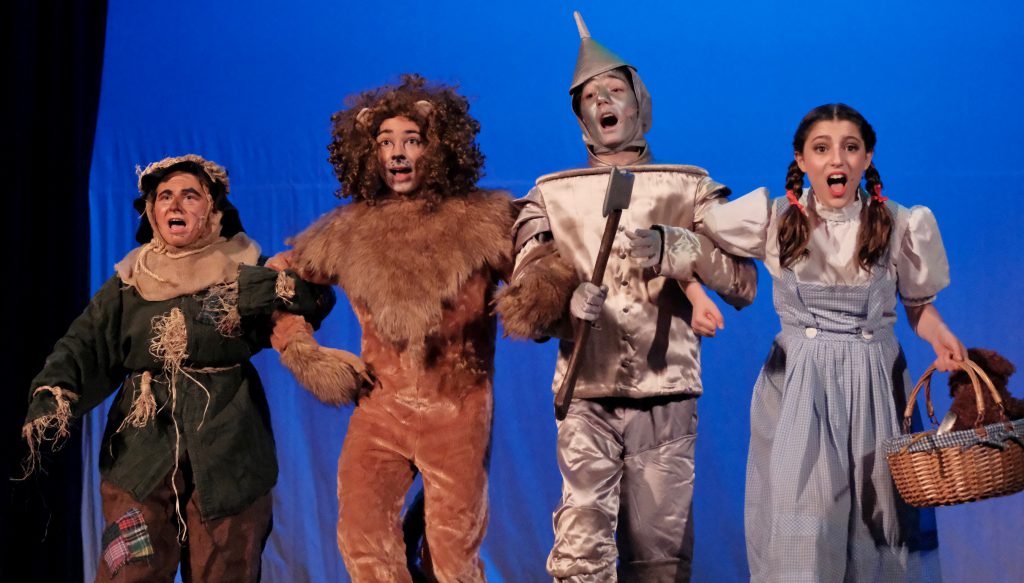 Thursday's show postponed until Sunday, Jan. 22 at 7p
All afterschool and evening activities for Jan. 19 have been canceled due to inclement weather. This includes Thursday evening's performance of The Wizard Of Oz at Bethlehem Middle School.
The performance will now be held on Sunday evening, January 22 at 7pm.
All tickets from Thursday's performance will be honored at the Sunday evening performance only. If you are unable to attend the rescheduled performance, please contact our ticket committee at bcmsmusicaltickets@gmail.com as soon as possible regarding ticket availability for other performances.
Please visit the BCMS Musical website, https://sites.google.com/bethlehemschools.org/bcmsmusical/home, for more details. 
---
Students from Bethlehem Central Middle School (BCMS) will travel over the rainbow and down the Yellow Brick Road to present The Wizard of Oz (Youth Edition), from Thursday, January 19 through Sunday, January 22, 2023.
A cast and crew of more than 100 students will perform the beloved musical based on the book by L. Frank Baum, with music and lyrics by Harold Arlen and E. Y. Harburg.
Check out these amazing photos from The Wizard of Oz dress rehearsals on the district's Facebook page (Photo credit: Kevin Grossman and Andrew Kirby)
When a tornado hits Kansas, Dorothy and her dog, Toto, are whisked away in their house to the magical land of Oz, where they meet Glinda, the Good Witch of the East. With Glinda's help, Dorothy and Toto set off down the Yellow Brick Road toward the Emerald City to meet the Wizard. Along the way they meet a Scarecrow that needs a brain, a Tin Man missing a heart, and a Cowardly Lion who longs for courage. Can the Wizard help? The musical is full of iconic songs, from Over the Rainbow to If I Only Had a Brain, to Follow the Yellow Brick Road. 
Dorothy is played by Samantha Grossman, Ellie Scher is the Scarecrow, Ben Cross plays the Tin Man, and Michael Jantson is the Lion. All four are eighth graders. And introducing Sir Walter Wags as Toto!
"The Wizard of Oz is a timeless classic, adored by generations, and full of songs that make us smile, laugh, and sing along," said Director and Choreographer Lindsay Dashew. "We are so excited to return for a full musical production at BCMS. After years of 'making the best of the situation' by performing outdoors and singing in masks, it is wonderful for our students to experience theater arts in full again. Our team of students and teachers can't wait to transport our audiences to Oz!"
Bethlehem Central High School music teacher Jason Dashew serves as the musical director, while BCMS teachers  Mary Katherine Daly and Patrick Gilday serve as the technical director and set construction supervisor for the production. Jennifer Bailey is the resident set designer. 
The production includes students performing on stage, as well as students running a behind the scenes crew which provides assistance in areas including wardrobe, props, hair and makeup, sound and lighting, and set design as well as ushers for each performance.
Performance dates
There will be five performances at the Bethlehem Central Middle School auditorium:
Bethlehem Middle School is located at 332 Kenwood Avenue, Delmar, NY 12054. 
The Wizard of Oz (Youth Edition) runs approximately 90 minutes with one intermission.
Ticket sales
At the box office
Tickets will be sold 1.5 hours before each show. Please note that availability is not guaranteed for the day of performance. 
THE WIZARD OF OZ: YOUTH EDITION is presented by arrangement with Concord Theatricals on behalf of Tams-Witmark LLC. www.concordtheatricals.com