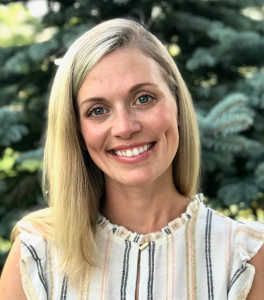 At its November 15 meeting, the Bethlehem Board of Education recognized Claire Groudine as the district's new food service director. She comes to BC through an agreement with Capital Region BOCES where Groudine is a registered dietician with the BOCES Shared Food Service Department.
Groudine will direct all phases of food service operations in the district. She will ensure compliance with state, federal and district regulations as well as the National School Lunch Program and the Free and Reduced Price Meal Program. She will develop menus, manage purchasing and inventory, assist with financial and budgetary oversight and supervise staff throughout the district's five elementary schools as well as the middle and high schools.
In addition to being a registered dietician, Groudine is also a certified dietician nutritionist and holds a master's degree in Applied Nutrition from The Sage Colleges. She brings a wealth of experience to the position. Most recently, she served as the National School Lunch Program contract manager for CN Resource, where she was in charge of contracting with state agencies nationwide to help administer the National School Lunch Program (NSLP). Overseeing a team of reviewers, Groudine has helped to facilitate the NSLP administrative reviews, ensuring that school districts are following the USDA regulations for school lunch programs. She previously served as food service director for the Berne-Knox-Westerlo Central School District. 
"I am looking forward to being creative and getting students excited about eating lunch at school. I am a registered dietitian, so I would love to bring some nutrition education into the cafeteria," said Groudine. "I also heard about the school gardens, which I would love to be involved with!"

Groudine is interested in working at BC, in part, because of the school's community and wellness values.
"BC seems like a great school district with awesome initiatives, I want to help make it even better with a great food service department," Groudine said. 
Groudine and her husband grew up in the area and have two children, Jack (5) and Annie (2). She enjoys cooking, traveling and being outdoors.
Groudine said she is looking forward to being a part of the BC community.