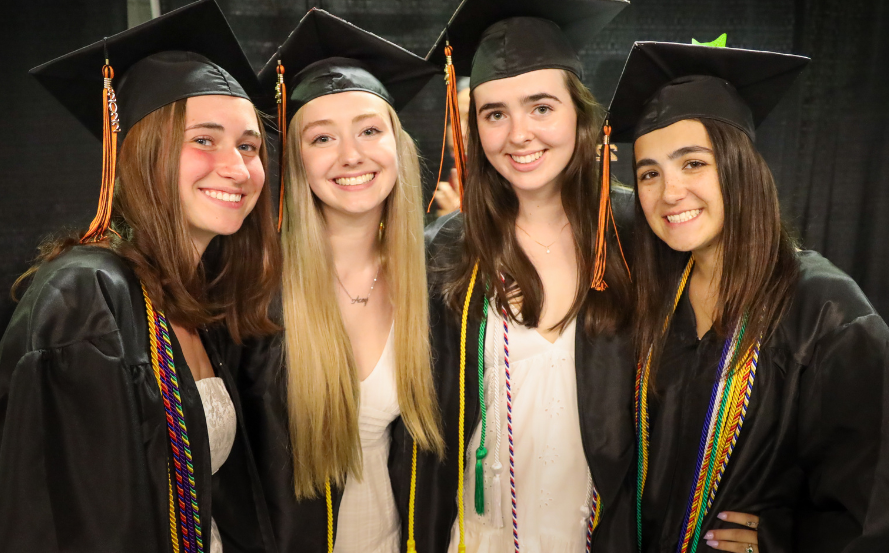 On Friday, June 24, a class of 381 students from Bethlehem Central High School received diplomas at an evening commencement ceremony held at the MVP Arena in downtown Albany. It was a joyous event for the members of the class of 2022, their families, friends, teachers, staff, administrators and members of the Board of Education.
Principal David Doemel, Jr., Superintendent Jody Monroe and Board of Education president Holly Dellenbaugh all addressed the graduating class and guests. There were also two student speakers at the 88th BCHS Commencement Exercises.
Madeline Ferreira gave a keynote address that dispelled the myth of time as something that we lose. Instead, she argued, time should be viewed as moments and memories we accumulate, even when those moments are fleeting. 
"Some of the most memorable moments from my time at Bethlehem were the late-night study sessions with my friends throughout my junior year," said Ferreira as she spoke to her classmates. "Cramming to study for an AP test, we all came home from our practices and jobs to Facetime for hours, trying to recite from memory Roosevelt's monetary policy or the real meaning of Marbury v Madison.
"The funny thing is that I don't remember what grade I got on either of those tests, but I do remember the congeniality, the laughter, and the small talk we shared those nights," said Ferreira. "From my experience at BCHS, I've learned that those little, stolen moments are the building blocks of our high school experience."
Ferreira will enroll at Cornell University in the fall.
Daniel Zhou closed the ceremony by focusing on the special bonds that "school friends" have.
"Even though you and your school friends may have started off as strangers to one another, through all of your shared experiences, you formed meaningful relationships with each other," Zhou told members of the class of 2022. "Look around you right now and think about who your school friends were throughout the last four years.
"Indeed, our time here together is coming to an end shortly, and this may be the very last time you see many of your classmates. You and your school friends might very soon become strangers with memories," said Zhou. "You are all moving on to a new chapter in your lives, filled with new experiences, new pursuits, and new people. But no matter what you do, don't forget about your school friends, for they are the ones who helped define the last four years of your life."
Zhou will attend Dartmouth College in the fall.
The entire ceremony was livestreamed. You can view a recording of the ceremony here.
Students were also accompanied by their high school counselors as well as the 2022 honorary graduation marshals who are faculty members selected by the students as having had a significant impact on their time in Bethlehem. This year's marshals were Kelly Babic, Teresita Barcia, Lester Betor, Kaaren Caron, Cori DiFabbio, Kristy Eldeen, Nick Ferguson, Corey Fong, Steve Gigliello,  Evan Harley, Dena Henderson, Michael Letzrig, Amy Ludik, Alix Messier, Jeffrey Mongue, Mark Nealon, Leslie Obermayer, Anthony Scott, Nancy Stathopoulos, Matthew Rehbit, Julie Taylor, Eileen Turo, Michael Valenti, and Lauren Ward.
Many members of the graduating class of 2022 recently shared their plans for after graduation. Those can be found here.
Congratulations to our newest BC alumni for their hard work and their contributions to the BC community. We wish them the very best!
Class of 2022 – The Exit Interview
As the graduation ceremony got underway, two members of the BC Class of 2022 asked a bunch of questions of their classmates one last time. 
Senior Awards
From the program:
Graduation 2022 Photo Albums
*Candid photos will be added to Facebook throughout the weekend so check back for more. Professional photos taken at the ceremony will be shared with families separately,
Follow us on Instagram @bethlehemschools
Post-Grad Plans – Class of 2022
What do our newest alumni have planned for themselves? Many members of the graduating class of 2022 recently shared their plans for after graduation. 
List of Graduates
*  – Honor graduates, Lab School honor graduates and Bethlehem Academic Achievement Award winners with a 90 or above average for 3 ½ years wear gold cords.
+ – National Honor Society Members wear blue and gold cords.
** – President's Award for Educational Excellence
*** –  President's Award for Educational Achievement
> – Seal of Biliteracy
^ – August 2021 Graduate
Justin Abbuhl
Jack H. Adams * **
West Allen * **
Elizabeth Claire Amodeo ***
Tess R. Anderson
Sophia Marie Annastas
Robyn Lindsey Arnason * **
Madison Michele Asmus * **
Isobel I. Aviles Deliz * **
Madeline A. Ayers * **
Claudia Chantal Baggenstos Nova >
Margaret A. Bailey * **
Rachel May Barnes * **
Elliot T. Barrett
Alison L. Barron * ** +
Liam D. Bartholomew
Kirsten Sarah Baum * **
Lillian Beiter * **
Alyssa Bella
Jenna L. Berben
Milan Bhatia-Guerin ***
William R. Bievenue * **
Ayanna L. Bing
Devon Noah Blackwood
Charles Blanchard
Saverio J. Blendell
Gabriel P. Blodgett * **
Rachel L. Boni
Lidia E. Boucher
Kyle J. Boyd
Anna I. Bradford-Rickard
Madalyn Eden Brand * ** + >
Hayden G. Brock * **
Eileen R. Bronk * **
Hayden Willing Brown
Margaret K. Bryngelson * **
Olivia L. Buckley
Nala Nibras Bughrara
Ashley Bullard * **
Ryann Marie Burns * ** + >
Thomas W. Burzesi * **
Alexander S. Cafiero
Ryan J. Campbell
Peyton Elizabeth Cardinal * **
Micah R. Carlton * **
Fiona Evangeline Castle * ** +
Andrew Cerf
Madelyn K. Cerza * **
Emma Lynn Chaney * **
Kristina G. Chavez
Benson Chen
Nicole C. Cintrón Ortiz * **
Isabelle Joy Clark
Jane Sierra Clark
Nathí Riain Clarke
Anna Cleary
Alexa Colabufo * **
Conner Finn Colonno
Isabella M. Cometti * **
Matthew David Connolly * ** + >
Stella Grace Convertino
Cameron R. Conway
Allison Marie Coolidge * **
Olivia J. Corazzini
Joseph D. Corts
Aliza Kathryn Yezzi Cotton * ** + >
Melanie Robyn Couillard * ** +
Jackson Cowin
Andre David Cridlig
Hannah Culley
Campbell Elizabeth Cummings
Connor J. Darcy
Robert John Davis * **
Emily R. DeGonza ***
Rowan M. DelBene * **
Megan M. Dellenbaugh * ** + >
Orion Matthew Dennin * ** + >
Christopher F. DeSorbo * **
Hunter E. Detwiler * **
Peter J. Devaprasad * **
Evan N. Diligent * **
Mark J. DiLullo
Spencer W. Dodge * **
Kira Hilary Doherty
Paige A. Doherty * **
Connor Patrick Donovan ***
Luke E. Doyle * ** +
Rachel Marie Drew * **
Olivia S. Drury * ** >
Ziran Du * **
Caitlin Marie Dunican
Frank Peter DuPont
Maya Danielle Gordis Earleywine * **
Ece O. Ercan * **
David Anthony Espinal
Jasmine Facchetti * ** +
Isabella Frances Faiola ***
Aubrey Fairfax

Allison Marie Farrell * **

Madeline Joan Ferreira * ** + >
Kate Meredith Field * **
Elianna Michelle Figueroa-Sealey ***
Jacob Alexander Finerow * **
Sinead E. FitzPatrick * ** +
Patrick Daniel Fitzsimmons * **
Gavin Follos * **
Jonathan P. Forand * **
Nikolas E. Freihofer
Samuel A. Fresina * **
Caleb Daniel Frezza
Alivia E. Fugitt * **
Isabella Mary-Ni Fuierer * ** + >
Nicholas R. Furlong
Rylan Patrick Gaffney
Adrienne Emma Gahl ***
Jackson Gallo Renich
Sara M. Giacone * **
Sofia Rose Giarrusso * **
Gianna Giglia
Seaver A. Glassman
Amanda L. Gonzalez Gomez *** >
Canden F. Gorman
Mackenzie Gorman
Matthew Anthony Grabe
Kirstin Graham ***
Marie G. Grause Moore
Claudia A. Grimaldi * ** + >
Rohan C. Grumberg
Cooper B. Guzy
Devon K. Guzy * **
Emma R. Haertel
Benjamin F. Hamm * ** +
Zachary Harbinger ***
Tyler M. Harrigan
Sofia Leila Hartmark ***
Eamonn M. Hayes * **
Tyler Hayes ^
Robert Sullivan Hazaz
Charlie C. He * **
Ginger Rose Hebert ***
Connor Matthew Heineman * **
Keith James Heineman * **
Illumirosa Heras * **
Alfred G. Hill, III
Paul S. Holstein * **
Conner Michael Holt
Phoebe A. Hosford * **
Ruth E. Hotaling * ** +
Nia G. Hughes ***
Lilyan Grace Humphrey * ** +
Claire Catherine Idema ***
Justice K. Jacobs
María D'leal Jacobs
Natalie Anne Jada ***
Rayne Jamieson
Daniel C. Jantson * ** +
Carson J. Jensen * **
Eric B. Jestel * ** +
Sasha Elizabeth Jo * **
Jack E. Johannesen
Frances J. Johnson * **
Max Fischer Kaback * **
Vijayasree Kakarala * **
Archisha Sai Kancha *** >
Kenan Kanic * **
Abraham Kauffman * ** >
Landen Dean Kawczak
John Francis Van Duyne Keeffe * **
Ryan Patrick Kegg
Omer Said Keles ***
Nisa Kendir
Christopher R. Kienle ***
Lauren Elyse Kinn
Andrew W. Kirby * ** >
Irely R. Knox ***
Corey James Knuth
Liam James Koch * **
Charles H. Koota
Nathaniel Zev Koplik * ** +
Sydney Carsan Kowalsky ***
Elizabeth Christine Krege ***
Alexa Mae Krueger
Ava Sophia Krupa
Cella Sophia Labarge * ** +
Ava Marie LaClair
Isabel L. Landers ***
Aviva J. Landsman-Kaufhold ***
Henry A. Lane * **
Sofia K. Langlois ***
Ka Yee Lee * ** >
Matti Carl Leväsalmi ***
Sasha R. Levin * **
Aimee Olivia Lewis * **
Isabel Barcia Lippold *** >
Jake Lippold * **
Emma Liu * ** +
Margaret A. Livingston
Connor M. Longtin * **
Emma C. Losee
Maren Mae Louridas * ** +
Karina Lozano
Elizabeth A. Maher ***
Eva Mane ***
Carson J. Manning
Logan Manziano
Julia Cafferty Martelle * **
Kevin Patrick Martone, Jr. * **
Paige Mazula
Jacob M. McAllister ***
Lauren M. McCabe ***
Emily P. McCann * **
Colton R. McDermith * **
Katherine Elizabeth McKenna * **
Michael P. McManus, III
Kaeden M. McMullen-McCormick
Rael James McRee ***
Grady F. McSharry
Katrina Elizabeth Medert
Alamdar Ali Meghani
Peter Mertik
Daniel Middendorf
Viera N. Midgette * ** + >
Colin Matthew Mikulski * ** +
Lily Claire Kim Millard * ** +
Christian M. Minnicks
Peter J. Moffre
John S. Molinsek * **
Michael Patrick Moloney
Taylor K. Momrow ***
Nicholas Dewey Mongue ***
Alex M. Montalvo
Conor A. Mooney
Emma Rose Moore
Nicholas James Morin-Wrubel
Shelby Amanda Morin
Anthony L. Morrison
Sarah E. Mueller
Elizabeth Grace Mullen ***
Jeremy R. Munn, Jr.
Connor B. Murphy
Richard William Myers * **
Elizabeth Grace Nagy * **
Katherine Mary Nagy * **
Heera K. Narang * ** + >
Abigail J. Nautel * ** + >
Sarah Elizabeth NeJame * ** +
Jeevan Ayyagari Nigam * **
Grady M. Noonan * **
Ayla Noor ***
Arieanna Nicole Norfleet * **
Tyler C. Novak * **
Cassidy C. O'Brien * **
Dean J. O'Brien * **
Kaitlin M. O'Meara * ** + >
Margaret O'Neill * **
Sage Cassidy Obernesser
Kalin Carol Oelkers
Serena Marie Okoniewski * ** +
Maire P. Owens * **
Finn Nicholsen Pachter
Jianna Therese Paggao * ** >
Brendan Christopher Pajak * **
Darius J. Palange ***
Max J. Palat * ** +
Anushka Bimal Patel * ** +
Cooper Patschureck ^
Lola A. Paul
Jessica E. Pauley
Abigail Grace Paulsen * **
Oriana Arwen Peatross
Ian T. Penfield * **
Claire Peretta * **
Roman Anthony Perrotto
Lindsay Nicole Pierce * ** +
James R. Pillittere
Maria M. Pocorobba * **
Isaac E. Pokat * **
Maya Kamille Probeck * ** +
Avery Jane Proper ***
Margaret E. Proper * **
Andrew R. Provera
Acey L. Puccio * **
Alyra M. Rain * **
Connor T. Raleigh * **
Alex Ramos
Ashrith K. Rao *** >
Ryan J. Reynolds * **
George K. Rhatigan
Isabella Rose Richards * **
Vincent Rigney
Madison L. Robbins * **
Bodie Patrick Rocklein * **
Caitlyn E. Roddy * ** +
Starr J. Rodriguez
Ava Sophia Roe ***
Griffin A. Roeder * **
Ethan Nathaniel Rosenblum * **
Madeline Claire Rounds ***
Mason P. Rowe * ** +
Matan M. Ruggiero
James W. Russell, III
Molly E. Russom * **
Jake A. Ruud * **
Ciara B. Ryan * ** >
Nora Grace Samson ***
Stella Sanles * **
Jake Andrew Santaski ***
Daniel Santiago ***
Dylan Saunders
Madison E. Scheilding * **
Logan C. Schmidt
Ethan Noah Schoenblum * ** +
Christine Lynne Schrempf * ** +
Allison Kelly Seebode * **
Natalie Laurén Sevilla-Lane * **
Rahul K. Sharma ***
Andi-Grey E. Sheingold * **
Lucas Carter Sheraw
Katherine Blake Shudt * **
Mollie Jessica Silver * **
Ishaan Singh * **
Sarah Singh * ** + >
Caleb D. Sink * ** +
Madison Sinuc * **
Gracie Lynn Skultety ***
Claudia Nicole Skuza ***
Claire Ann Smith * ** >
Albert Marton Snyder ***
Rosamond Sophia Soka * **
Joanne O. Somide * ** >
Lauren A. Sorrentino ***
Emily Kate Spada * **
Megan Elizabeth Sparks * **
Timothy Robert Spore * **
Grace Isabella Stelmaszyk * **
Ava Stickan * **
Gordon Su * ** + >
Ella Selin Surmeli * ** + >
Jack Edward Sutliff
Dylena Marie Swann ***
Sarah B. Syed *** >
Katie H. Taffe * **
Ryan V. Taffe ***
Alexander Caden Thomas
Justice O. Thomas
Etta Thornton * ** +
Brandon J. Tice
Jared G. Tice
Jack Tichman
Emiliano Torlasco *** >
Emily Rose Towle * **
Riley A. Travis
Ella Traynor * **
Johnson Trowbridge
Grace Elizabeth Monica Truchard * **
Camryn Danielle Tutunjian
Caitlin Grace Valerian * ** +
Emma Madeleine Charlotte Bleecker VanLuven * ** + >
Juliette Anne Arline Bleecker VanLuven * ** + >
Sarah Katherine VanSchaick * **
Katerina A. Van Steele * ** +
Matthew Vichaiwattana
Victoria Sergeevna Voronina * **
Lindsey E. Waters
Ali K. Weatherly
Jessica Angeline Weinert
Julia Quinn Weinert * **
Megan B. Whitbeck * **
Elle-Sophia R. Wilber * **
Ezra Schoen Winston * **
Jackson T. Woods
Haley M. Wright ***
Michael Xie * ** +
Tao Xie * ** +
Ela Yucel * ** + >
Jaden G. Zapatka
Helen Zheng * **
Jeremy Zheng * **
Winny Zheng
Daniel Zhou * ** + >
Tomer Zilberberg