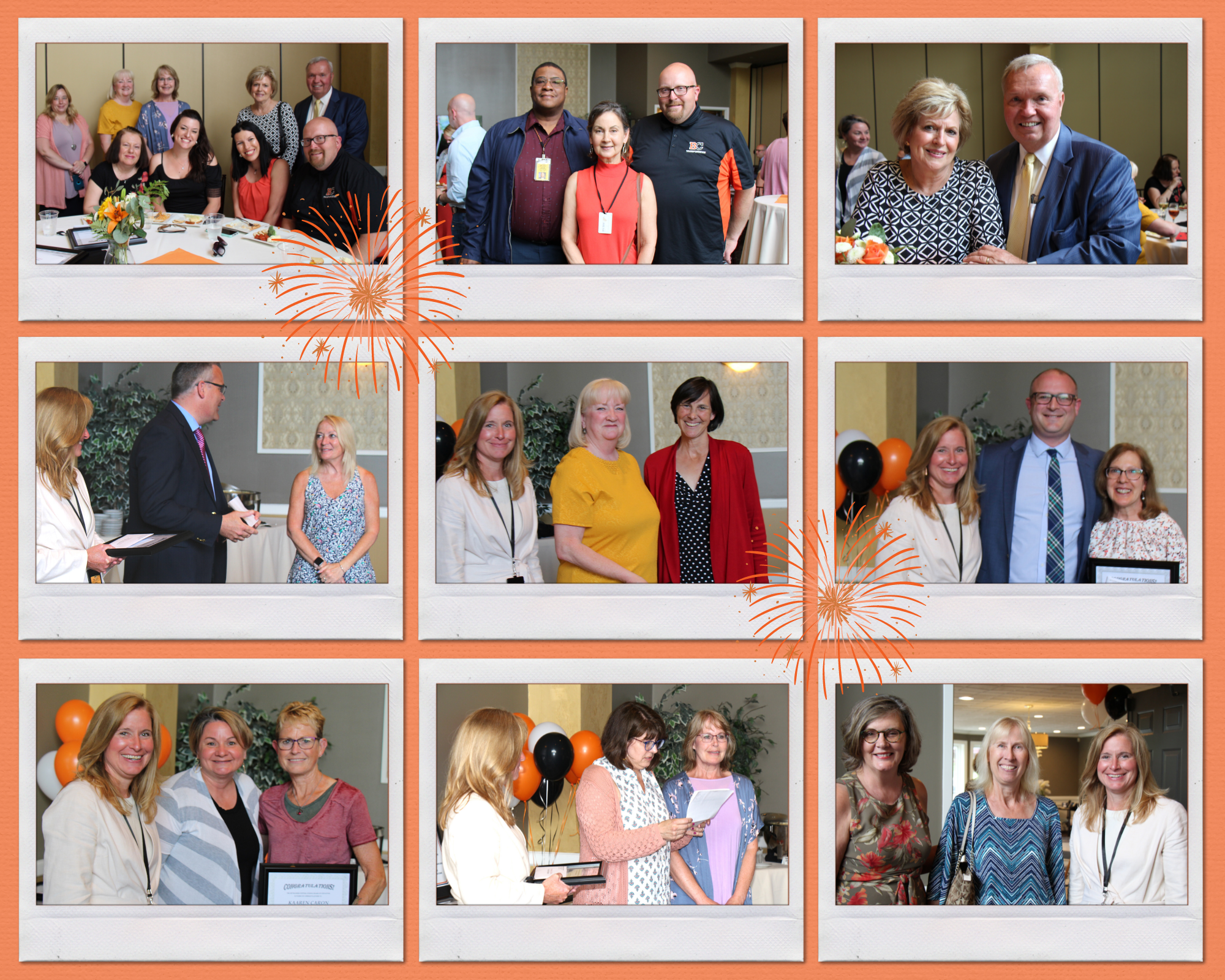 At the end of every school year, the school district celebrates longtime faculty and staff who have or will be retiring. This year, 27 employees with combined service totaling nearly 600 years will leave BC after long careers serving the children of the Bethlehem Central School District.
On Thursday, June 2, a reception was held at the Normanside Country Club for retirees, who were joined in the celebration by family members, building principals, department supervisors, administrators and Board of Education members.
Below, learn more about this extraordinary group of people as we say farewell, and thank you.
2021-22 BCSD Retirees
Mary Claire Ansbro-Ingalls – School Bus Attendant, Transportation (12 years)
"Known to all of us as Claire…she is very caring and would lend a hand to anyone who needed it. In the community, she has shared that same caring spirit as an outspoken advocate on behalf of children. Claire is truly missed."
Karen L. Anthony – Aide to Students with Disabilities, Eagle Elementary School (22 years)
"Karen's commitment to serving the students at Eagle is out of the ordinary. She takes the time to get to know her students, both academically and personally, making a genuine connection with them. She laughs with them, holds them to doing their best, and provides the undying support they need to succeed at school."
Mary Ellen Baker – Aide to Students with Disabilities, Elsmere Elementary School (20 years)
"Students know that Mrs. Baker will help them regardless of the setting… and that she also believes in their abilities. With this encouragement, students under Mrs. Baker's care learn and grow exponentially. Her attention to detail, ability to prioritize, and true love of her students have been the perfect combination."
Kaaren Caron – Art Teacher, Bethlehem Central High School (31 years)
"Kaaren has a special gift in working with students to do their very best and to get each and every student to succeed and have artwork that they are truly proud of. Thank you Ms. Caron for your unwavering dedication and commitment to making the high school a more colorful place."
Margaret A. Carroll – Clerical Assistant, Eagle Elementary School (22 years)
"Peggy has been the face of Eagle. She is the one children run to when they need assistance–from copies to hugs -kiddos flock to Mrs. Carroll. They know they will be listened to, helped, encouraged and loved. For the last 13 years the children at Eagle are the luckiest around as they have had Peggy in their lives."
Andrew J. Cretz – School Bus Driver, Transporation (13 years)
"Andy was very conscientious about his responsibilities. His route ran like a well-oiled machine. Students on Andy's bus route were present and ready to learn each day due to his skillful operation of the school bus, dedication and professionalism."
Nicholas DeMuth, Jr. – School Bus Driver, Transportation (6 years)
"Nick always reminded us that we never know what a student may be experiencing on any given day. Their safety and health were his number one priority."
Barbara J. Duclos – Aide to Students with Disabilities (20 years)
"Barb can best be described as a 'gentle spirit' and a true professional in every sense of the word. She always went above and beyond with helping her students and staying connected in their lives even after they left Slingerlands. She is simply loved by all and she will be missed."
Mary T. Dueno – School Bus Driver, Transportation (15 years)
"Theresa, as she is known to all of us, spent much time dedicated to teaching students about safe ridership as a member of the Bethlehem Education Awareness Team (BEAT). She is a consummate professional who has been an excellent resource to new drivers and attendants as well as a reliable and dependable driver."
Pamela M. Held – Library Media Specialist, Hamagrael Elementary School (16 years)
"Pam is known for doing a lot of incredible things here at Hamagrael including those that will leave a lasting legacy. She has built excitement for choosing the Newbery Medal winners and helped to redesign the school library. Pam's designs were student-centered and have made the library a fun and inviting place for all."
Judith E. Kehoe – Chief Business and Financial Officer (15 years)
"What has always been most impressive about Judi is her tireless work ethic and her positive energy. She has a 'can-do' attitude and has been able to find creative ways to make things happen for our students and staff. Judi's contributions to the district will be evident for many years to come."
Linda Kowalewski – English Teacher, Bethlehem Central Middle School (29 years)
"Anytime anything good or great came along, Linda paid attention to it, implemented it, tweaked it-made it even better, and then made connections with her colleagues sharing how anyone could use it in any discipline. She has quietly commanded the respect of those around her because of her skill."
Anne Marie Lasky – Reading Specialist, Elsmere Elementary School (17 years)
"Just when a student may be feeling discouraged, in comes Anne Marie with her gentle smile, bag of tricks and extensive library. Anne Marie is a gifted teacher. She never gives up on a student nor lets them give up on themselves. The magic Anne Marie works with students is instrumental in their success in school and beyond."
Jeanette M. Machlowski – Secretary I, Hamagrael Elementary School (25 years)
"If you ever had the pleasure of working with Jeanette, you would know that she is thoughtful, caring and prepared for everything. Her dedication to her work and our school community is something that is rare and should be celebrated."
Maureen M. Macri  – School Bus Attendant, Transportation (21 years)
"Over her career here at BC, Maureen has played an integral part in supporting the academic achievement of students and the success of the student transportation safety program in our community. Her friendly smile is missed around here."
Angela M. McCarty, Aide to Students with Disabilities, Slingerlands Elementary School  (25 years)
"Angela's greatest strength, above all, is her compassionate nature with her students, encouraging them in her kind and thoughtful way, and providing just enough help, but not too much, towards assisting them in achieving their academic and social goals. Angela is a trusted co-worker, friend, and mentor to students."
Joyce McGuire – Food Service Helper, Bethlehem Central High School (17 years)
"Joyce McGuire has been a leader at the heart of the high school kitchen team since 2007. Her positivity and concern for each student she serves makes her a memorable part of the school cafeteria experience at BC. She has been a large part of improving the quality of food in recent years to meet changing student demands."
Tina McKay – Personnel Assistant, Human Resources (28 years)
"Always positive, always unflappable, Tina could be counted on to make sure that a high volume of critical tasks were completed on time and accurately. Tina's commitment and dedication to serving districtwide staff were evident when she would gladly work additional hours if there was a looming deadline."
JoAnn Menrath – District School Nurse Coordinator (25 years)
"JoAnn's dedication to keeping students and staff safe is always at the forefront. When the pandemic hit, JoAnn worked side by side with Superintendent Jody Monroe and the district's medical director as a trusted advisor. In constant communication with DOH, NYSED and CDC she has spent countless hours outside the work day to convey data and information to the district to keep students and staff healthy and families informed."
Kyle A. Meyer – Elementary Teacher, Hamagrael Elementary School (26 years)
"Kyle Meyer has been an integral part of the Hamagrael and Bethlehem community for more than 25 years. Kyle just has that personality where you instantly love her and become her friend. We miss Kyle at Hamagrael."
Lynn A. Myers – Noon Aide, Eagle Elementary School (15 years)
"Lynn's quiet demeanor made her very approachable. Students found her easy to talk to and often went to Lynn as their first choice when they needed help. Lynn truly cared for all the students and the kids knew it."
Laurie P. Nickford – Aide to Students with Disabilities, Bethlehem Central High School (21 years)
"Anyone who has worked with Laurie at Slingerlands, the middle school, or high school has seen the way she is able to seamlessly integrate herself into any classroom. She intuitively anticipates the needs of her students in order to accommodate them. Laurie is flexible, willing to lend a hand to colleagues, and always willing to assist with solving any challenges that come her way."
Patricia A. Paradis – Elementary Teacher, Slingerlands Elementary School (32 years)
"Patty has influenced, inspired, and informed the minds and hearts of hundreds of children and many colleagues as well. Patty's classroom is a place where intellectual curiosity is fostered, kindness is celebrated and collaboration is embraced. Known for her strong interest in STEM education, her approach to inquiry-based learning is unique and highly regarded."
Rita Schipano – School Bus Dispatcher, Transportation (22 years)
" Dispatching is a tough job. It is not for the faint of heart. It requires grace under pressure. A good dispatcher is their own triage unit and Rita is the epitome of this. She will leave her mark on our department without a doubt. When people talk about the 'Bethlehem Way' they are describing Rita Schipano."
Nancy Stathopoulos – Special Education Teacher, Bethlehem Central High School (28 years)
"Nancy's valuable contributions to the BCHS community are enumerable with long-lasting impacts that have developed and educated students with disabilities, mentored and supported countless colleagues and shaped an ever-evolving SESS Department for the past 30 years."
Sharon L. Watkinson – Aide to Student with Disabilities, Slingerlands Elementary School (22 years)
"Sharon made every child feel special. With care and attention, children who needed support received it from Sharon."
Glenn A. Yelich – School Psychologist, Bethlehem Central High School (32 years)
"Doc, as he is affectionately known, makes sure to ask how your day is going and is quick with a laugh. Doc is also a charismatic sharp dresser who somehow matches each season with holiday color, and of course a matching tie. He a reliable and steadfast colleague and for that we appreciate him."