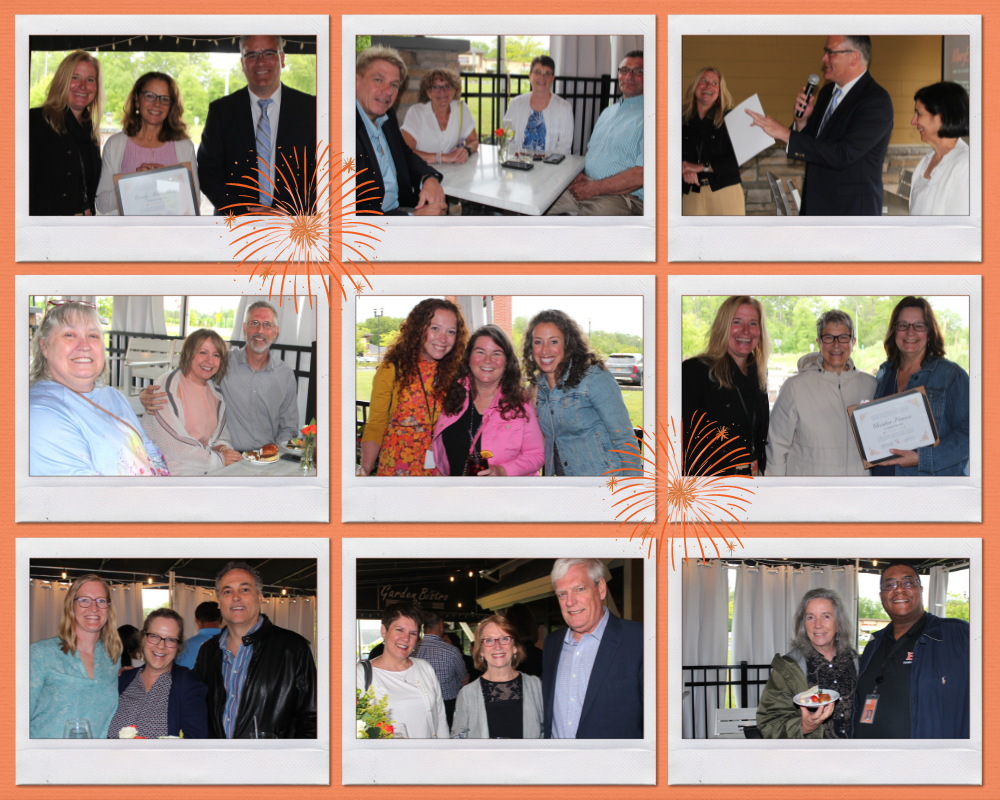 It's a BC tradition to send off our longtime faculty who are retiring by celebrating their careers. This year, 22 employees with a combined service of more than 500 years will leave BC after dedicating decades of their careers to serving the children of the Bethlehem Central School District. 
On Wednesday, May 25, a reception was held at Garden Bistro 24 in Slingerlands for retirees. 
Below, learn more about this extraordinary group of people as we say farewell, and thank you!
2022-23 BCSD Retirees
Donna Asprion – School Bus Driver, Transportation (37 years)
"Donna is one of those employees who did her job well every day consistently. When it came to her students, Donna spoke up for what she needed to for their safety and success. Other times, you would not know she was here because she was on time, reliable, and dependable. Now that she 'has made it' (her words) the intention is to live life and enjoy!"
Terri Bleichert – Cook, High School (41 years)
"Terri is best known for her delicious homemade soups and
pizza. However, it is her cheery and bright personality as well as her commitment to the students and staff she cooks for that will leave a legacy for many years to come."
Scott Carlton – Guidance Counselor, High School (31 years)
"Scott's knowledge, experience and dedication have had a significant effect on our department and the thousands of students he has worked with over the years. When his students are successful, he beams with excitement. When students struggle, he feels true empathy and will exhaust every possible option to support them. Even though he is leaving, Scott's influence will remain."
Janet Cassidy – Speech Language Pathologist, Slingerlands Elementary (26 years)
"Janet's humble, unassuming and exuberant nature helps foster positive and productive relationships with both staff and students. Simply put, Janet is the 'glue that holds it all together.' We will miss hearing her infectious laugh and expressive voice reverberating through the halls early in the morning and late into the afternoon."
MaryEllen Chardavoyne – Aide to Students with Disabilities, Glenmont Elementary (15 years)
"If there is anyone who is a model aide to students with disabilities, it is MaryEllen. She understands the concept of providing support for students and then fading back so they can develop their own independence. She loves children and always puts her heart and soul into helping them be successful."
Nancy Clark – Clerical Assistant, Human Resources (15 years)
"On a daily basis, Nancy was accurate and had an unmatched sense of attention to detail. She would go the extra mile to make sure she was accurate and would communicate with staff to answer questions clearly and factually. We will miss your love of coffee, and Disney, Disney, Disney."
Susan C. Cullen – Social Studies Teacher, High School (25 years)
"Susan believes in the power of the humanities to create world citizens who can think critically and act with empathy and dignity for all. Her intelligence, analytical nature, passion, and caring for her students have made her unforgettable to both students and teachers."
Ellen Driscoll – School Bus Driver, Transportation Department (19 years)
"Ellen has spent her career finding ways to deliver the message that safety is the number one priority. She is a master at teaching her students to own their role in creating a safe bus environment. She is an extremely passionate person with creative talent that allows her to infuse her world (and ours) with wide swaths of brilliant color and dimension."
Debra Grieco – Aide to Students with Disabilities, High School (17 years)
"Deb is known for going the extra mile to help her educational team provide students with the resources they need to be successful. She has always been willing to help students reach their full potential by encouraging them to try their best, and never give up."
Jacqueline Haluska – Secretary to the Deputy Superintendent, District Office (15 years)
"Jackie is the epitome of professionalism and efficiency. Her tireless efforts ensured the smooth functioning of the Educational Services Center, enabling the district to deliver exceptional education to countless students. Jackie's attention to detail and unwavering commitment to excellence have been invaluable."
Christine Hansen – Aide to Students with Disabilities, High School (15 years)
"Time and time again, Chris has proven to be the consummate team player, always willingly available to support any student, whatever the skill level or need. Chris showed a level of respect and empathy to students with significant challenges. Anyone she was assigned to support thrived in their school experience because of her patience and skills."
Kathy Johnston – Director of Special Education and Student Services, High School (26 years)
"Kathy has always been willing to support teachers and principals when a child is facing challenges. One should never mistake her kindness for weakness though. If there was a situation that required a firm response in order to yield the best results for students and staff, Kathy would often tap into an outsized toughness you just don't expect. Her strength and resolve, and her caring ways, have served the district well."
Deborah Kawczak – School Bus Driver, Transportation (21 years)
"It is rare to find someone more dedicated to her job and loyal to her students than Debbie. In fact, Debbie has a secret most people don't know about her. She is a true BC Cheerleader! Debbie can be seen in the bleachers of many BC sports events cheering on her students. She will also attend their plays and concerts as well. She does all of this without any fanfare."
Cindy MacCallum – Elementary Teacher, Slingerlands Elementary (19 years)
"Cindy has supported the needs of her children in the classroom every day in order to create a safe, structured, and engaging learning environment. She employs numerous strategies and activities to raise students' sense of curiosity and creativity, as well as to build the foundations for early literacy and math skills."
Gina Marsh – Senior Keyboard Specialist, Middle School Counseling Center (31 years) 
"Gina's humor was often self-deprecating and whenever she would go there she was often wrong. She would understate her ability, understate her enormous competence and she was always a worrier about whether her work was good enough … despite it being extraordinary. Gina made us smile, laugh and remain grounded and her wisdom was never lost on any of her colleagues."
Robin Sarnacki – Special Education Teacher, Slingerlands Elementary (32 years)
"Anyone who has worked with Robin can attest to her enduring positivity, tireless dedication to her students and her craft, and her calm, yet passionate demeanor. Robin literally meets every student where they are in order to bring them along their continuum of learning, self-discovery, and skill development."
Steven W. Schleinitz Sr. – Building Maintenance Mechanic, Operations and Maintenance Department (16 years)
"Over the years, Steve became the 'go-to' person in the HVAC
division at O & M. His rational and mature approach in dealing with the BCSD community made him a role model for all department personnel to emulate."
Martha Shea – Accountant II, Business Office (12 years)
"Thank you, Martha, for your hard work, commitment, and significant contributions to the Business Office Team and the District."
Sally Shields – Hall Monitor, High School (19 years)
"Research shows that just one trusted adult can have a profound effect on a child's life. At the high school, we have made it a point to ask students if they have a trusted adult in the building. The name that comes up 95% of the time is Sally Shields. It is an understatement to say Sally has made BCHS a better place."
Martha Smith – Aide to Students with Disabilities, Hamagrael Elementary (26 years)
"Martha's unwavering support, encouragement, and guidance have played a crucial role in helping students overcome challenges and reach their full potential. Martha's passion for inclusive education has served as an inspiration, not only for her colleagues but for our entire school community. Martha's infectious smile and spirit have touched the lives of students and staff alike."
Dave Vara – Social Studies Teacher, High School (33 years)
"Dave is a fierce and tireless advocate for all students but particularly for those with special needs as he has an acute understanding of their needs. He embodies the essence of professionalism, from his shirts and ties to his sharing of valuable resources with colleagues. Plus he is a mentor without knowing it, just by being a great example to others."
Jean Zaccagnino – Clerical Assistant, Glenmont Elementary (23 years)
"Jean has worn many hats here at Bethlehem Central over the years. The title 'clerical assistant' does not nearly encompass everything Jean has taken on. Simply put, Jean makes the school run smoothly. She just gets things done. We just might have to keep Jean on speed dial so we can reach her whenever we have a question."