School Menus | Meal & A la Carte Price Information | Free and Reduced Price Meals | Student Accounts, Payments  & MySchoolBucks | Dietary & Food Restrictions | Meal Charging Policy | Non-Discrimination Statement
Department Overview
Welcome to BCSD Food Services. Our mission is to provide students with delicious, healthy, affordable and safe options for meals and snacks at school. Elementary and Middle School students are offered breakfast, lunch and a la carte snacks daily. High School students are offered breakfast from the BC Blend Café, a wide variety of grab and go or traditional lunch options during scheduled lunch periods, and After School Café from 1:00-2:30 p.m. daily. We strive to create an environment that is friendly and promotes nutritious choices to support the learning environment at BCSD. In an effort to support the local community and procure the freshest ingredients, BCSD Food Services purchases food locally whenever possible. Please see your student's school schedule for breakfast and lunch times. If you have questions or comments, please contact the BCSD Food Service Office.
Meal & A la Carte Price Information
School lunch costs $3.00 for elementary students and $3.25 for middle school students, and  $3.50 for high school students. Milk costs $0.60. Breakfast costs $1.75 for elementary students, $2.00 for middle school students and $2.50 for high school students. Adult meals cost $3.00 for breakfast and $5.00 for lunch, including tax.
Lunch
K-5
Full pay: $3.00 
Free/reduced eligible: No charge
6-8
Full pay: $3.25
Free/reduced eligible: No charge
9-12
Full pay: $3.50
Free/reduced eligible: No charge
Adult
Breakfast
K-5
Full pay: $1.75 
Free/reduced eligible: No charge
6-8
Full pay: $2.00
Free/reduced eligible: No charge
9-12
Full pay: $2.50
Free/reduced eligible: No charge
Adult
Free and Reduced Price Meals
The United States Department of Agriculture (USDA) and New York State understand the importance of healthy meals for growing children. We encourage all district families to apply and see if they qualify for free or reduced-priced meals at school. Please note that all information received on applications is strictly confidential and students' who receive a benefit are never identified.
Student Accounts, Payments & MySchoolBucks Online Payment System
Log in to your account at www.mySchoolBucks.com. The Bethlehem School District's Food Service Department is excited to provide parents a convenient, easy and secure online prepayment service to deposit money into your child's school meal account at any time. This service also provides parents the ability to view your child's account balance through a website called MySchoolBucks.com. By having money in each child's account prior to entering the cafeteria, we find the lunch lines move along much faster so your child has more time to eat and be with friends.
Each student has a unique school meal account that can be accessed by their student ID number. You can locate your student's ID number through the ASPEN Parent Portal. Your student's school may also issue student ID cards. New students will be assigned an ID number when they enroll.
During meal times, the cashier can discretely identify your student by their ID number, barcode of their ID card, or by their name and school picture using our computerized Point-of-Sale system. They will charge the student's purchases to their account, record payments and take deposits.
We offer many payment options for purchases of food at school. We encourage parents to take advantage of our convenient online payment service at www.mySchoolBucks.com.
Why should I set up a MySchoolBucks online payment account?
Parents with more than one child in the district can create a family account and handle all online prepayments for their children from this one account.
Parents have the ability to print out a copy of their child's purchase history within the past 30 days to track and control purchases.
Parents can set up email alerts for low account balances as well as automatic payment schedules for worry-free account management.
How to Setup a MySchoolBucks Account
Log in to Aspen Parent Portal https://aspen.bethlehemcentral.org/
On the homepage, under "Group Resources" you will find a document entitled "Food Service: MySchoolBucks-Online Payment Setup" which will describe in detail the steps to enroll and start using your account.
If you do not have an account with Aspen or if you have lost your Aspen login information, please email bcsdaspen@bethlehemschools.org.
Please note that a convenience fee of $2.75 will be assessed for each online transaction. This fee is paid to the service provider, not the school district.
You may also pay by check made out to the "BC Food Services" sent to your student's school. Although we do accept cash payments, we strongly discourage them as they are more difficult to track. To secure checks or cash sent to schools with students, we recommend sending in a sealed envelope marked with school lunch and the student's name.
BC Meal Charging Policy
The purpose of this policy is to comply with federal and state requirements for the USDA Child Nutrition Program, and to provide oversight and accountability for the collection of outstanding student meal balances, while also ensuring that students and families are supported in getting the food and nutrition they need and deserve.
The Bethlehem Central School District places high importance on maintaining the dignity of all students and this includes ensuring they are both nurtured and well-nourished while at school. No student is ever denied a meal because of an inability to pay. The Food Service Department works closely with families so all students are prepared to learn and engage each and every day. Payment issues are handled discreetly between the school district and parents or guardians and all students are provided with sound nutritional meals. More details can be found by viewing the district's meal charging policy.
Prohibition Against Meal Shaming
In the case of a student who cannot pay for a meal or who has accrued meal debt, the following actions are expressly prohibited:
Announcing or publicizing the names of children with unpaid meal charges
Sending clearly marked notices home with children who have an outstanding balance
Using hand stamps, wristbands, stickers, or other physical markers to identify children with outstanding meal charges
Requiring children with unpaid meal charges to do chores or other work
Throwing a child's meal in the trash
Taking any action directed at the student to collect unpaid meal charges
Discussing any outstanding meal debt in the presence of other students
Serving alternate meals (i.e., cheese sandwich)
Using a debt collector
Dietary & Food Restriction Information
The Bethlehem Central School District Food Service Department is committed to keeping students safe and helping families ensure their students make healthy, budget-friendly choices at school. For this reason, we provide tools to help you communicate any dietary and/or non-dietary restrictions your student(s) may need accommodations or alerts for.
When a student comes through the cafeteria line, the cashier will bring up their account to ring up their purchases. Before the cashier can add anything to the student's account, an alert pops up to notify the cashier (this alert might be a food allergy, snack limit, or restriction on charging). The student's photo is on the account screen to help ensure proper identification. Below is a picture to show you what the screen looks like when an account alert pops up.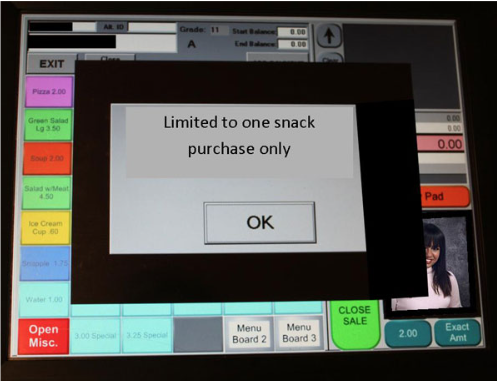 Please call the Food Service office to set up account restrictions. Please note that account restrictions do not carry over from year to year. Parents/guardians must set up account restrictions on an annual basis. The Food Service office needs a note or phone call from a parent or guardian to remove account restrictions.
Dietary Restrictions
Restrictions for food allergies and other medically necessary dietary restrictions should be communicated to the nurse at your child's school. A doctor's note is required to set up an alert and/or special diet plan.
Please communicate any changes in allergy or diet prescription to the school nurse. If you would like to discuss non-medically necessary dietary restrictions or diet preferences your student has, please contact the Food Service Director.
Non-Discrimination Statement
In accordance with federal civil rights law and U.S. Department of Agriculture (USDA) civil rights regulations and policies, this institution is prohibited from discriminating on the basis of race, color, national origin, sex (including gender identity and sexual orientation), disability, age, or reprisal or retaliation for prior civil rights activity.
Program information may be made available in languages other than English. Persons with disabilities who require alternative means of communication to obtain program information (e.g., Braille, large print, audiotape, American Sign Language), should contact the responsible state or local agency that administers the program or USDA's TARGET Center at (202) 720-2600 (voice and TTY) or contact USDA through the Federal Relay Service at (800) 877-8339.
To file a program discrimination complaint, a Complainant should complete a Form AD-3027, USDA Program Discrimination Complaint Form which can be obtained online at: https://www.usda.gov/sites/default/files/documents/USDA-OASCRP-Complaint-Form-0508-0002-508-11-28-17Fax2Mail.pdf  from any USDA office, by calling (866) 632-9992, or by writing a letter addressed to USDA. The letter must contain the complainant's name, address, telephone number, and a written description of the alleged discriminatory action in sufficient detail to inform the Assistant Secretary for Civil Rights (ASCR) about the nature and date of an alleged civil rights violation. The completed AD-3027 form or letter must be submitted to USDA by:
mail: U.S. Department of Agriculture, Office of the Assistant Secretary for Civil Rights, 1400 Independence Avenue, SW, Washington, D.C. 20250-9410; or fax: (833) 256-1665 or (202) 690-7442; or email: program.intake@usda.gov
This institution is an equal opportunity provider.