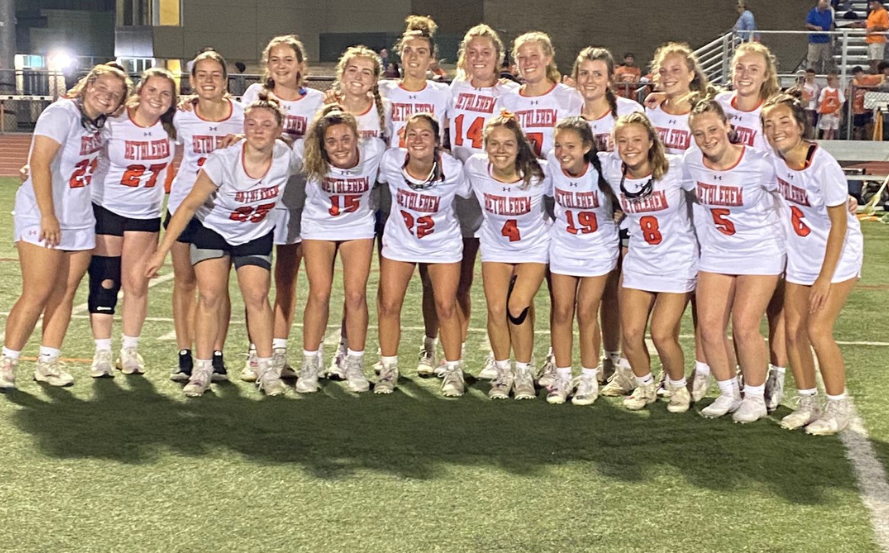 Updated Monday, June 5
The Bethlehem Central High School girls varsity lacrosse team is heading to the New York State semi-finals in Cortland on Friday, June 9 after its regional victory over Minisink Valley, 9-6,  on Saturday, June 3. 
On Friday, the team — which earned the Section 2 Class B title — will face Victor High School. Victor is the Section 5 champion. If Bethlehem defeats Victor on Friday, the team will play in the Class State B Final on Saturday, June 10 at 11: 30 a.m. at SUNY Cortland.
Best of luck to this talented team and coaching staff!
Head coach: Dani Blanchard; Asst. coach: Erin Jones
Maeve Conway (11)
Gabrielle Crellin (11)
Addison Daggett (11)
Natalie DeSanti (10)
Riley Donovan (12)
Avery Eick (10)
Brianna Fabian (9)
Alexis Hartson (10)
Sophie Klein (12)
Ellie Kopplin (11)
Caroline Marotta (11)
Clare Megahey (10)
Nina Palella (12)
Kirsten Phang (11)
Violet Piccicinni (12)
Katherine Qualia (11)
Lauren Sinuc (9)
Kait Tietjen (11)
Madeline Ward (10)