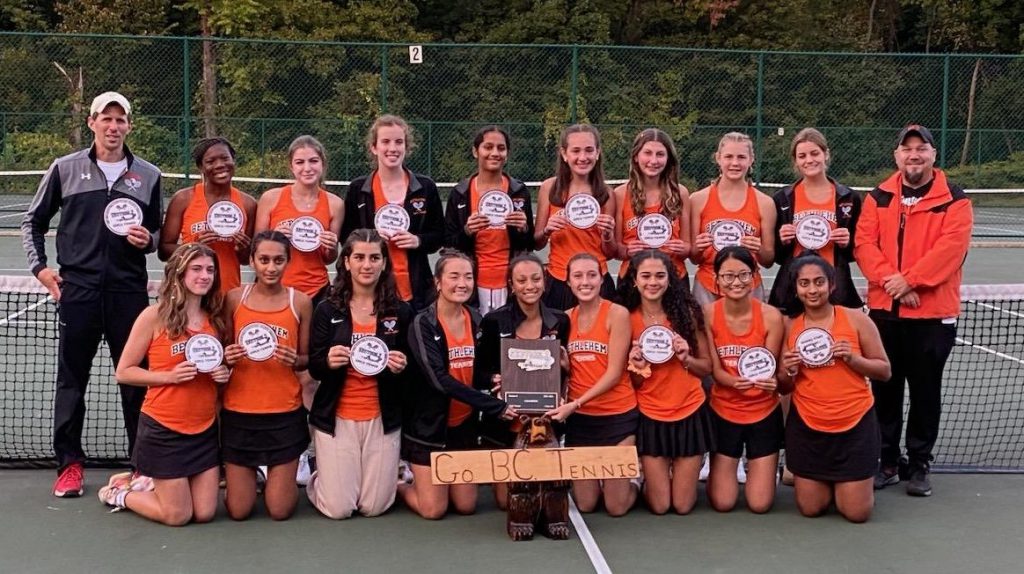 Congratulations to the BC girls tennis team which has won the Section II championship and will head to the NYS quarterfinals on Saturday, Oct. 21. It is the third year in a row the team has earned the top spot.
The team secured the Section II title by defeating Saratoga 5-4 last Thursday. On Saturday, the BC team defeated Burnt Hills-Ballston Lake in a sub-regional match with a score of 6-1.
Next, the team will take on the state's Section III champion, Fayetteville-Manlius, on Saturday, Oct. 21 at Hamilton College in Clinton, NY. 
A win over Fayetteville-Manlius on Saturday would result in a return trip to the NYSPHSAA State Championships to be held at the USTA Billie Jean King National Tennis Center in Flushing Meadows, NY. 
Congratulations and best of luck to this amazing team!
Elizabeth Amirbekian, Grade 8
Hope Brown, Grade 11
Paige Davenport, Grade 12
Joy Dzigba, Grade 11
Camilla Heckman, Grade 11
Kripa Hongalgi, Grade 11
Sashara Hongalgi, Grade 8
Shayna Huli, Grade 11
Rayka Kogut, Grade 11
Cecilia Nausch, Grade 11
Purvayi Patil, Grade 12
Zara Pattison, Grade 11
Kirsten Phang, Grade 12
Claire Reilly, Grade 11
Emily Samyn, Grade 12
Xela Seagle, Grade 12
Nina Vargas, Grade 11

Sophie Wang, Grade 11
Coaching staff:
Scott George, Head Coach
Dylan Davis, Asst Coach
Deborah Davis