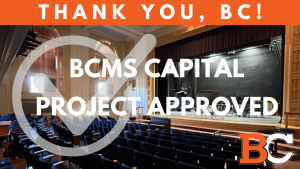 Bethlehem residents have approved the use of $4.6 million in capital reserves for a capital improvement project at Bethlehem Middle School. The referendum, which was approved by a vote of 958 to 225 — or 81% to 19% – will allow renovations of the school's auditorium to move forward.
"We are thankful to the community for its support of this funding and this project," said Superintendent Jody Monroe. "The middle school auditorium is home to some truly outstanding talent. We are excited about being able to showcase that talent  in a space that will have the design, function and accessibility that our students, staff and community members deserve."
Construction is expected to begin in late January and be completed by the end of 2024.