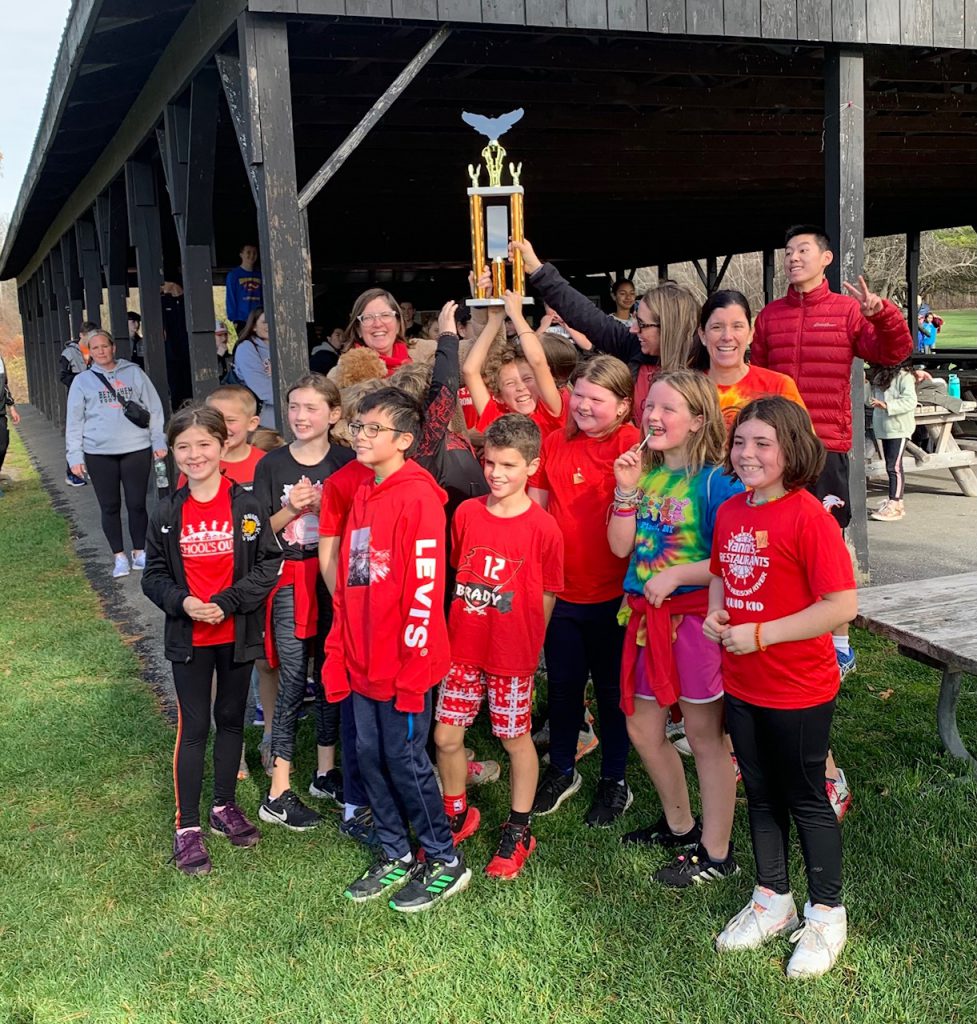 Glenmont Elementary School has won the K-5 BC Spirit Run trophy for 2022-23. The school had nearly 28% of its students take part in the first-ever districtwide fun run at Elm Avenue Park in Delmar.
More than 400 runners in total took part in the BC Spirit Run, held on Friday, November 11, 2022. The event, which was sponsored by the district's Wellness Committee, provided a recreational activity for students in grades K through 5 on Veterans Day. The event also featured a salute to members of the armed forces, with local veterans serving as flag bearers and BC junior Sofia Corts delivering a memorable rendition of the Star Spangled Banner. 
Members of the boys and girls cross country and track and field teams served as school captains, course marshals and finish crew.
The morning included a 1/4-mile run for K-1 students; a 1/2-mile run for grades 2-3 and a timed 1-mile race for students in grades 4-5. There was also a 1-mile run for parents and faculty members. Two students earned awards for fastest times in the Grade 4-5 race. They are:
Boys #1: Dylan C. – Eagle (7:10.5) 
Girls #1: Grace L. – Elsmere (8:11.3)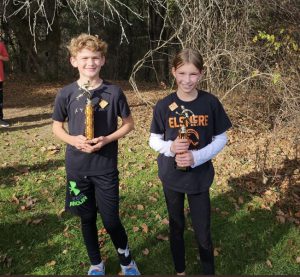 Full results for runners in grades 4 and 5 can be found below.
View a photo album of the K-5 BC Spirit Run on the district's Facebook page.
In addition to the Spirit Award, Glenmont was also named the "fastest" school with five runners placing in the top-15 of the timed fourth- and fifth-grade run.
"I am so proud of our Wellness team for pulling this off," said teacher and coach Andrew Rickert, who is a member of the Wellness Committee and was chief organizer of the inaugural event. "I have already heard families talking about next year. What a start for this new tradition!"
Glenmont will maintain the Spirit Run trophy until next year, Rickert said.
Thank you to our volunteers
Athletic Director Len Kies – Wellness Committee Chair 
Superintendent Jody Monroe, K-12 Art Supervisor Melanie Painter & Eagle Teacher Christen Jordon – Registration
Board of Education member John Walston – Veteran Coordinator
Helderberg VFW Riders – Veteran flag bearers
K-12 Physical Education, Health and FACS Supervisor Zach Tacelli – Emcee
Sofia Corts – BCHS student singer
BC Art Teacher Corey Fong – Trophy designer
BCHS XC/TF Booster Club – donated two individual trophies
Tucker Chrapowitzky & Chris Buchanan – Finish crew
Members of the Boys & Girls Cross Country Teams – Course Marshals
Ansen Chamberlain, Tyler Grossman, Patrick Murphy, AJ Rider, Dylan Wang – "School Captains"
Mikey Murphy – Lead Runner
Jennifer Murphy – BCXC/T&F Booster Club photographer
Top finishers – Timed race (Grades 4/5 only)
Dylan C., Eagle 4 – 7:10.5
Eddie C., Slingerlands 4 – 7:10.8
Everett A., Glenmont 4 – 7:27.6
Connor B., Slingerlands 5 – 7:32.9
Evan M., Hamagrael 5 – 7:33.5
Bennett A., Glenmont 4 –  7:35.6
Evan A., Eagle 4 – 7:37.2
Enzo M., Glenmont 4 – 7:47.0
William M., Glenmont 4 – 7:47.9
Dylan F., Hamagrael 5 – 7:52.7
Jack K., Slingerlands 5 – 7:55.2
Theo P., Eagle 4 – 7:56.6
Caleb R., Elsmere 4 – 7:59.0
Logan V., Glenmont 4 – 8:04.4
Timmy C., Slingerlands 4 – 8:08.3
Noah T., Glenmont 5 – 8:10.1
Grace L., Elsmere 5 – 8:11.3
Olivia L., Glenmont 4 – 8:12.0
Dane D., Glenmont 5 – 8:15.0 
Landon M., Slingerlands 5 – 8:16.9
Douglas H., Slingerlands 4 – 8:23.9
Brynn E., Glenmont 5 – 8:30.0 23
Kieran M., Hamagrael 4 – 8:33.5
Simon B., Glenmont 4 – 8:37.9
Noah L., Slingerlands 4 – 8:39.2 
Benjamin B., Glenmont 5 – 8:56.0
Willow W., Eagle 4 – 9:05.1
Jack P., Slingerlands 4 – 9:17.0
Wesley W., Glenmont 4 – 9:18.6 
Matilda S., Elsmere 5 – 9:23.5 
Michael S., Glenmont 5 – 9:25.6
Marco L., Elsmere 5 – 9:26.6
Luke H., Slingerlands 4 – 9:34.5
Mason H., Glenmont 5 – 9:36.2
Isaac S., Elsmere 5 – 9:40.8
Kara D., Glenmont 4 – 9:42.1
Ethan H., Slingerlands 4 – 9:44.7
Gideon K., Slingerlands 5 – 9:52.1
Kaelyn H., Glenmont 5 – 9:59.9
Eljin M., Elsmere 5 – 10:16.1
Ava R., Hamagrael 5 – 10:24.7
Lewis C., Hamagrael 5 – 10:32.8
Sydney L., Glenmont 5 – 10:37.7
Rowan R., Glenmont 5 – 10:39.2
Joseph H., Glenmont 5 – 10:43.0
Leah B., Glenmont 5 – 10:56.1 47
Eleanor L., Eagle 4 – 11:06.9
Evelyn P., Eagle 4 – 11:13.3
Maggie F., Glenmont 4 – 11:19.6
Caitlin B., Glenmont 4 – 11:21.1
Caroline T., Slingerlands 4 – 11:25.9
Gitika N., Slingerlands 5 – 11:44.4
Leah C., Eagle 5 – 11:52.0
Ayse A., Eagle 5 – 12:24.2
Teddy B., Glenmont 4 – 12:38.7
Mara H., Slingerlands 5 – 12:39.5
Reka B., Hamagrael 4 – 12:40.5 58
Rowan M., Hamagrael 4 – 12:47.2
Nicholas R., Glenmont 4 – 12:54.0
Daniel T., Eagle 5 – 13:00.6
Mallory K., Glenmont 4 – 13:11.3
Olivia S., Glenmont 4 – 13:11.7
Henrik C., Eagle 5 – 13:49.4
Grace M., Glenmont 5 – 13:55.7
Anthony M., Glenmont 5 – 14:08.1
Aaron Z., Eagle 5 – 14:16.5
Cheyenne H., Eagle 4 – 14:18.4
Callie L., Glenmont 5 – 14:21.9
Taylor L., Glenmont 4 – 14:25.7