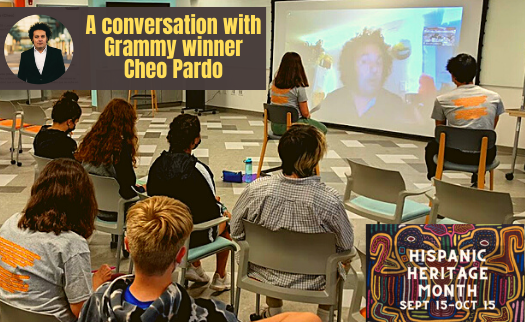 On Tuesday, September 28, Venezuelan composer, guitarist and producer, and Grammy winner Mr. José Luis "Cheo" Pardo joined BCHS students for a virtual conversation about his long musical career, experiences in the field, and advice for aspiring artists and musicians. This event was hosted by the BCHS Spanish Honor Society as part of National Hispanic Heritage Month. Seniors and honor society members Megan Dellenbaugh and Orion Dennin served as the moderators for the interview.
Pardo delighted the audience in a candid conversation filled with his anecdotes as an aspiring musician, from high school to his current production studio in NYC and even as a well-established musician. He spoke about his inspirations, Latin music and new artists, the Grammys and the creative process behind his work as part of the band "Amigos Invisibles" and as a solo artist, such as his album, "Sorpresa" and the popular song "La Que Me Gusta." The students particularly enjoyed hearing about his favorite memories including performing with the LA Philharmonic Orchestra, having a power outage during a concert, and being invited to perform in Central Park among other New York City bands.
Pardo also advised the students to be true to themselves, follow their passion in life, not fear change, get involved in a variety of school activities, and find their "tribe" (people with similar interests that appreciate their talents). Pardo emphasized resilience, perseverance, creativity, and the importance of enjoying the "road" to one's goal, not just the destination. The attending students found this unique presentation inspirational, informative and entertaining, while Cheo said that he enjoyed the chance to interact with our BC students.