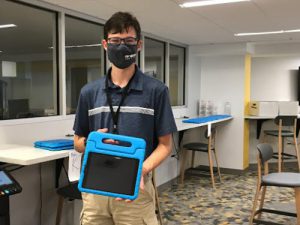 Throughout the summer months, work has continued at Bethlehem High School to make sure that the technology students and teachers have come to rely on is ready to go for the start of school.
Some of this work depends on the efforts of high school student interns who have been a part of the BC Technology Help Desk every year for the last eleven years.
This summer, three interns have worked with the professional staff at the Help Desk to buy, scrub, and assign Chromebooks, manage Viewsonic boards, and prepare teachers and students for the coming school year.
Rising senior Robert Davis is one of those interns. He has been working at the Help Desk over the summer to gain experience for college, where he hopes to pursue a mechanical engineering degree. 
"I've always enjoyed technology, but this has helped me learn more to figure out what I want to do, so I don't have panic later on," said Davis, who began working at the Help Desk as a sophomore. 
Including Davis, there are 23 students who will be working at the Help Desk in the 2021-22 school year.
Davis' supervisor hopes that students also develop some skills that they normally wouldn't be focused on in school.
"It is a unique opportunity," said BC Senior Systems Administrator Navaar Johnson. "I really want to try and provide an experience that is close to what they would get in the real world. It is a very different type of learning experience."
In working with the students, Johnson says his favorite thing to teach is how to troubleshoot computer problems.
"It is not necessarily a fun thing, but it is a skill that I feel translates to every aspect of life," said Johnson. "If you can troubleshoot well, it's problem-solving, really. If you can solve a problem, you can think through steps logically and do a lot with that no matter what you're working on."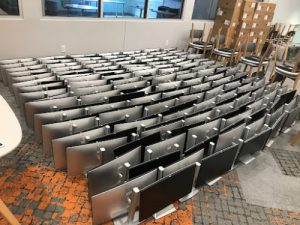 The district's Technology Department and the Student Help Desk were vital to getting students and staff through virtual learning in 2020-21. 
"It was critical that we were able to maintain communication between students, teachers, and the district while doing remote learning," said Johnson. "That has been our biggest challenge of any year so far."
While remote learning and technology can pose their own challenges, Johnson said sometimes it's the simplest things that can trip people up. He shared his top two tricks for students and staff who are having issues with tech. They are learning how to Google and restarting your device.
"They seem like such simple things but I'm the senior systems administrator for the district, and I end up Googling a lot," said Johnson.
"I have to manage all of this software, devices, and services, everything that we use in the district every day, and that's a lot of stuff," he said. "I don't know it all off the top of my head so very often, I will go back to Google and find answers."
The second, he said, is to restart your device — often.
"There's a common joke across all IT, and it's 'have you tried turning it on and off again?'" said Johnson. "Many, many times, the problem is going to be solved by a simple restart."
Johnson said the students he mentors as Help Desk volunteers don't always need to be technology-focused. Technology skills can be developed and students who have skills in other areas make for a well-rounded Help Desk team, he noted. 
Students who staff the Help Desk during the year must volunteer at least one day a week. They work during a free period, at lunch or after school. 
"I would definitely recommend being a Help Desk intern to any student," Robert Davis added. "It has taught me a lot about what it's like in the real world after I've finished with my academics."
Students who are interested in working at the Help Desk should talk to their counselors or to current interns to learn more about the program.