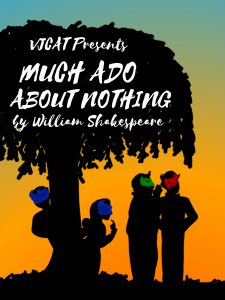 The Vincent J. Crummles Acting Troupe (VJCAT) will present William Shakespeare's Much Ado About Nothing this weekend at Bethlehem Central High School in Room D-122.
Friday, June 9, 7 p.m.
Saturday, June 10, 7 p.m.
Sunday, June 11, 2 p.m.
Suggested donation: $5.
Much Ado About Nothing is a Shakespearean comedy full of arguments, rumors and misunderstandings…but in the end, love conquers all. Students have been working since April on a performance that will include original songs and music written by BHCS senior Gu Hong Wu. Don't miss it!
(Graphic design by Gu Hong Wu)