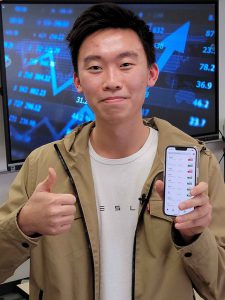 It's been an impressive three-year streak in the statewide stock game for BCHS senior Tao Xie. A testament to his ability to see more than just what's going up and down.
Check out this Spectrum News feature on Tao Xie's amazing Stock Market Game success.
"A lot of people when they think of stocks they think of numbers, tickers, it's so easy to get caught into those things."
Xie just cashed in another regional first-place finish in the SIFMA Stock Market game, second place across the state out of 4,275 participants. Prior to this year, Xie has previously placed first and third in statewide competition.
Those who play the game start out with $100,000 and get a few months to build on the initial investment. Xie said he finished the most recent competition with between $160,000-$170,000.
"Every year I try to find new strategies to see what works, what didn't work, said Xie, who's also co-president of the BCHS Stock Market Club.
In 10th grade, Xie had his first big hit in the game when one of the smaller pharmaceutical stocks he invested in skyrocketed. In 11th grade, he bet against the quick rise of stocks like Gamestop and AMC, fueled by internet conversation and capitalized when the price dropped by "shorting" the stocks.
"I find it easier now to spot these big speculative bubbles. Every time I find them I just put in a little money and short it. And almost every time it works," he said.
This year, he used what he learned to come up with another successful mix, including shorting speculative bubbles and investing in pharmaceutical stocks that he felt were about to rise.
Xie sees a future for himself in investment banking, but wants to keep his options open.
"I like how investing allows me to get into all these industries without getting fixated on one of them."
Xie gives credit to economics teacher Jason Majewski and the business department for their lessons and advice. Majewski said the school's Stock Market Club has doubled its membership under Xie's leadership, leading to more BC students participating in the stock market game.
Xie is hesitant to give his opinion about which stocks are the best investments. He said the most important thing for someone starting up is to understand what they're investing in.
"I would encourage them to do a little research," he said. "My advice for all my friends is to start investing. Once you put your money into it you really begin to care about the thing. You begin to actually learn."