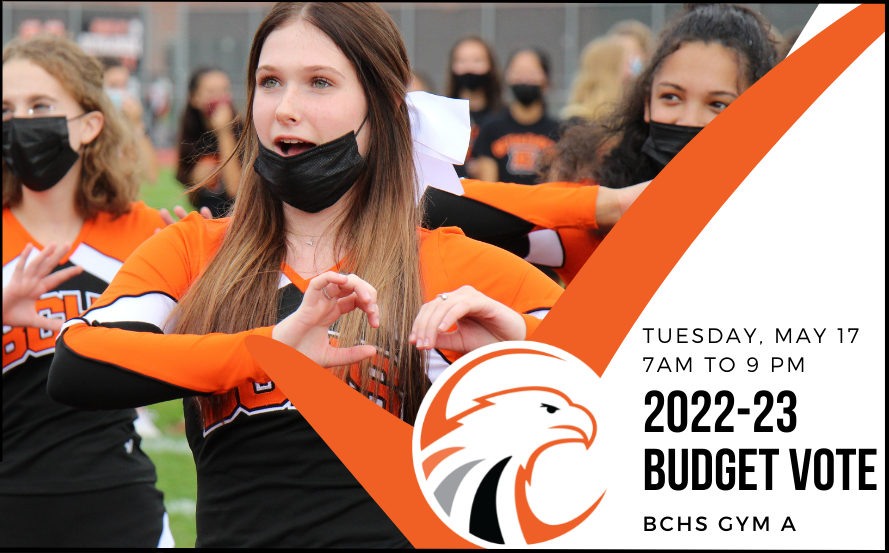 On Tuesday, May 17, Bethlehem Central School District voters will consider a $102.7 million budget for the 2022-23 school year that preserves all academic programs, keeps class sizes small and provides additional supports for students. There is no increase in the tax levy in the proposed budget.
In-person voting will take place in Gym A at Bethlehem Central High School, from 7 a.m. to 9 p.m. Absentee ballots are also available for voters. 
The proposed 2022-23 budget would increase overall spending by 0.65 percent and would include a tax levy increase of 0 percent.
In addition to the budget, voters will also elect two members of the Board of Education, and decide on a bus purchase proposition and a new capital reserve fund.
What will I be voting on?
How do I vote?
In 2022, there are two ways to vote on the school budget:
Who can vote?
To vote you must be:
At least 18 years old; and
A U.S. citizen; and
A resident of the Bethlehem Central School District for at least 30 days prior to the vote.
You do not need to be pre-registered to vote on May 17 in the Bethlehem Central School District elections.
However, if you have not voted in a recent school district election, you may not appear on our voter roll. To be added to the roll of district eligible voters on School Budget Vote Day, please bring photo identification. If your photo ID does not reflect an address within the district, also bring proof of district residency (such as a current utility bill).
Please note that the rolls maintained by the Albany County Board of Elections are a separate database that is not shared with the district.
View a sample ballot
When you check in at the polls on Tuesday, May 17 at Bethlehem Central High School, you will receive your ballot to fill out. Please be aware that the Bethlehem Public Library budget and their Board of Trustees candidates also appear on the ballot, along with the school district budget and Board of Education candidates. View a sample ballot for the May 17 vote.
Plan your visit to the polls
Please be aware that Tuesday, May 17 is a regular school day. That means there will be additional traffic at the high school between 7:15 a.m. and 7:35 a.m. and between 1:45 p.m. and 2:10 p.m. 
Voters may park in the visitor parking section of the main high school lot on the Delaware Ave. side of the school. Enter the polling place using the doors marked "Main Entrance."
Also, please be aware of additional traffic on Van Dyke Rd. near the high school during arrival and dismissal at Eagle Elementary School. There is additional traffic on Van Dyke between 8:50 a.m. and 9:10 a.m. and again between 2:50 p.m. and 3:10 p.m.
Music, student artwork and Kids Vote Too!
The district welcomes residents to check out the talents of our students. There will be music in the new high school auditorium. The annual Senior Art Show (Heart & Soul) is back and will be open to visitors in the main foyer. Also, students in grades K-5 will once again be able to participate in their own vote. Learn more about Kids Vote Too 2022. 
Take our Budget Exit Survey
Is there more you'd like to say about the school district budget? If so, we want to hear from you. The annual Budget Exit Survey will be available in one of three ways: 
Online at a computer kiosk near the exit
Online on your own device using a QR code available at the exit
On paper with a dropbox near the exit
The survey is anonymous and takes 3 minutes or less to complete.
Budget Newsletter and Budget Notice
View the 2022-23 Budget Newsletter and Budget Notice.
If you are unable to access the PDF above, please contact the BCSD Communications Office at 518-439-3650.