On Wednesday, Apr. 26, the Bethlehem Central School District officially broke ground on a state-of-the-art synthetic turf field stadium at the high school. The project was approved by voters as part of the $40.7 million 2021 Facilities Improvement Project.
The synthetic turf field will provide nearly year-round access to a consistent playing and practice surface for BC student-athletes. The field will be used for interscholastic play by the school's soccer, lacrosse and field hockey teams. The field will also be used for physical education classes for grades 9-12.
The field's stadium complex will include accessible bleachers for up to 1,000 spectators, a press box, a scoreboard, and a sound system. Other features include a concession building with accessible restrooms, field maintenance storage, new and improved drainage and a state-of-the-art lighting system.
The field and stadium are expected to be completed sometime in fall 2023, weather permitting.
As part of the groundbreaking, administrators, coaches and teachers, student-athletes and members of the Board of Education celebrated the start of the project. They included, pictured l to r: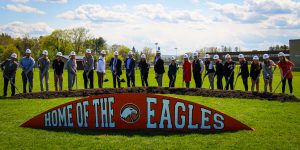 Gregg Nolte, Former Director of Facilities & Operations
David Doemel, Jr., BCHS School Principal
Brian Filarecki, Member of the Varsity Boys Soccer Team
Brian Spina, Varsity Boys Soccer Coach
Dave Rounds, Varsity Boys Lacrosse Coach
Zackary Foro, Member of the Varsity Boys Lacrosse Team
Zach Tacelli, Supervisor of K-12 Physical Education
John McPhillips, Chief Business and Financial Officer
David Hurst, Ph. D., Deputy Superintendent
Holly Dellenbaugh, Board of Education President
Robert Tietjen, Board of Education Member
Meredith Moriarty, Board of Education Member
Jody Monroe, Superintendent of Schools
Nick Insognia, Director of Facilities and Operations
Len Kies, Director of Athletics and Wellness
Piera McGaughan, JV Girls Soccer Coach and Physical Education Teacher
Dani Blanchard, Varsity Girls Lacrosse Coach/ JV Field Hockey Coach/Physical Education Teacher
Dawn Austin, Varsity Field Hockey Coach
Caroline Marotta, Member of the Varsity Girls Soccer & Varsity Girls Lacrosse Teams
Violet Piccinini, Member of the Varsity Girls Lacrosse Team
Violet Macdonald, Member of the Varsity Field Hockey Team
Video: Superintendent Jody Monroe speaks to WRGB 6 Sports about the new turf field.