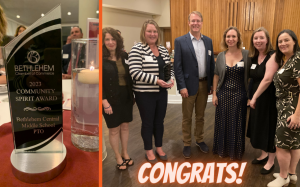 On Oct. 26, the Bethlehem Middle School PTO received the "Community Spirit" award from the Bethlehem Chamber of Commerce as part of the 36th Annual Bethlehem Chamber Awards Celebration. Benita Zahn hosted the event which took place at the Colonie Golf and Country Club. 
In accepting the award on behalf of the organization, PTO president Courtney Russell said, "In general, volunteer support for the PTO/PTA organizations has diminished over the years, across the nation. I feel it is especially impactful that the Bethlehem Middle School PTO has been recognized for the work our organization does to support the students, staff and families of the school community as the amount of volunteer support and involvement greatly drops as students leave the elementary schools.
"Parent involvement and support is just as needed and necessary at middle school and beyond," she said.
Click here to learn more about how you can support the Middle School PTO.