In response to a nationwide and local driver shortage, the Bethlehem Central School District is proposing changes to bus transportation eligibility to reduce the number of bus routes, beginning next school year. These changes could impact up to 700 students districtwide beginning in 2022-23. The proposed changes shown on the maps below would need to be approved by a public vote in May before they could be implemented for the new school year.
If approved, the district expects it could eliminate 4-5 bus routes, reducing the number of drivers needed by 4-5 and helping to stabilize student transportation across the district. If the measure is not approved, a similar number of routes would still need to be consolidated, resulting in longer bus rides and more students on each bus.
The district is seeking feedback on these proposals before March 16, when the Board of Education would decide on whether to include a change to transportation eligibility on the ballot in May. You can email your feedback, questions or concerns to districtoffice@bethlehemschools.org. All comments will be shared with district administrators and members of the Board of Education. If you are unable to access the map below, please call the BCSD Communications Office at 518-439-3650.
Eagle Elementary: Proposed Walk Zone Map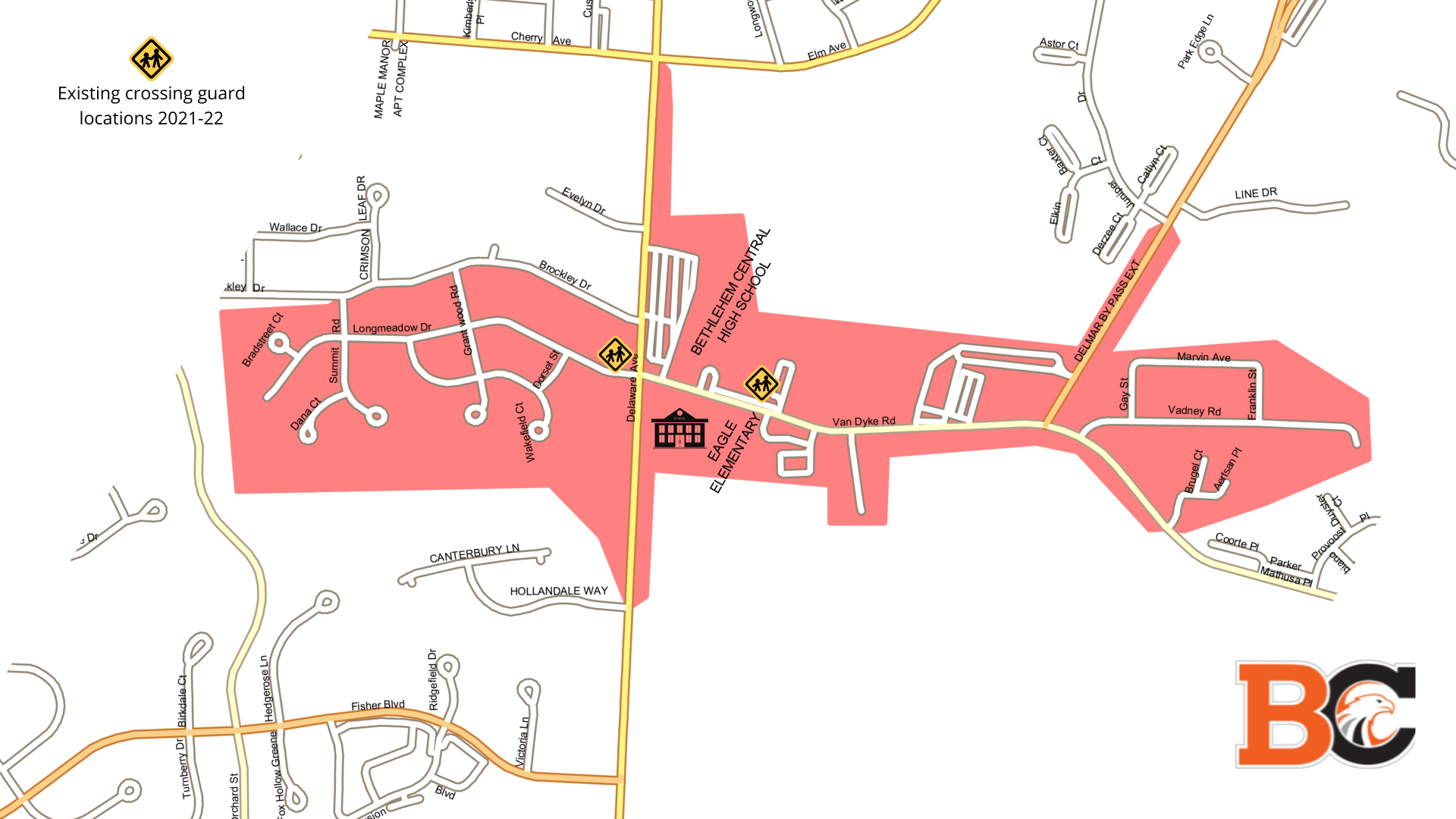 If a family's home is within the large shaded area on this map, the student would not be eligible for district transportation as part of the proposed change. The family would be responsible for getting their child to/from school

. 

Only households within the large shaded areas are included in the expanded walk zone. 
Share your feedback, questions or concerns via email at districtoffice@bethlehemschools.org
List of Streets within Proposed Eagle Walk Zone
Aertsan Pl – All
Bradstreet Ct – All
Brugel Ct – All
Dana Ct – All
Delaware Ave – Both sides of Delaware Ave from Hollandale Way to Brockley Dr. North side is zoned for Slingerlands. South side of Delaware Ave from Brockley Dr to Elm Ave.
Delmar Bypass Ext –  Both sides from Van Dyke Rd to Juniper Dr
Dorset St – All
Elm Ave – All
Franklin St – All
Gay St – All
Grantwood Rd – All
Longmeadow Dr – All
Marvin Ave – All
Summit Rd – All
Vadney Rd – All
Van Dyke Rd – Both sides from Delaware Ave to Aertsan Pl
Wakefield Ct – All
More information regarding proposed changes to transportation eligibility can be found here.