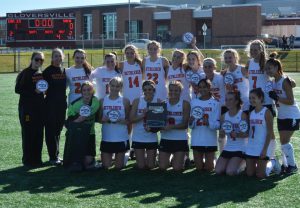 On Sunday, Oct. 30, the Bethlehem Central field hockey team defeated Shenendehowa 1-0 to win the Section 2 Class A Championship. The game's only goal came in the fourth quarter by senior Haley Backlund off the assist by Violet Macdonald. Sophomore goaltender, Teagan Rosencranse recorded the shutout. The game was held at Gloversville High School.
On Sunday, Nov. 6,  Bethlehem will travel to Mahopac High School to face Section 1 Champion Scarsdale in the Regional Field Hockey Championship. 
Congratulations and good luck to all!
The team includes: 
Elizabeth Austin, Grade 11
Haley Backlund, Grade 12
Grace Chrapowitzky, Grade 11
Jill DeCancio, Grade 12
Natalie DeSanti, Grade 10
Lauren Dudgeon, Grade 10
Avery Eick, Grade 10
Oona Ko Knight, Grade 11
Amelia Kuhn, Grade 11
Violet Macdonald, Grade 12
Finleigh McClain, Grade 9
Caitlin McInerney, Grade 12
Clare Megahey, Grade 10
Agnes Potenciano, Grade 12
Katherine Qualia, Grade 11
Teagan Rosencranse, Grade 10
Rurika Suzuki, Grade 11
The team is coached by Dawn Austin (Head Coach) and Kerrigan Roth (Assistant Coach). Team managers are Anna Willi, Julia Kloss, and Reilly Meredith.