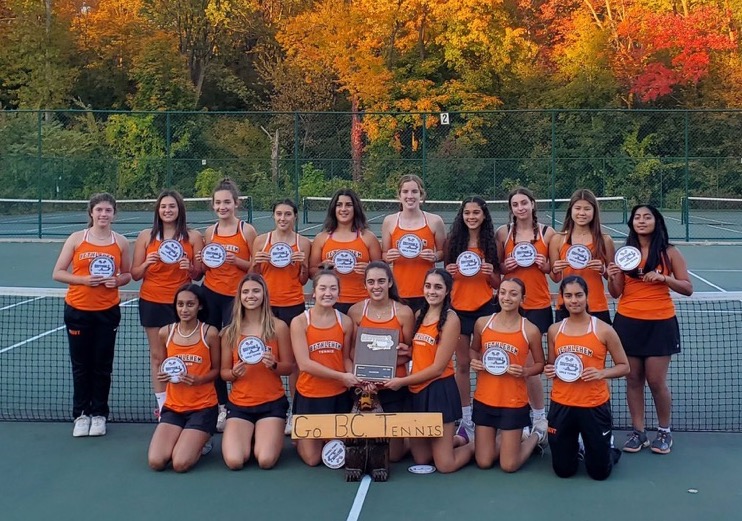 Congratulations to the BC girls tennis team which earned the Section II championship title this past weekend.
The team finished its regular season undefeated and secured the Section II championship by defeating Saratoga 8-1 on Friday. On Saturday, the BC team defeated Burnt Hills-Ballston Lake in a sub-regional championship with a score of 5-2.
Next, the team will take on the state's Section III champion Saturday, Oct. 22 at Central Park in Schenectady. The Section III opponent has not yet been determined. 
A win over Section III on Saturday would result in a return trip to the NYSPHSAA State Championships to be held at the USTA Billie Jean King National Tennis Center in Flushing Meadows, NY. 
Congratulations and best of luck to this amazing team!
Elizabeth Amirbekian, Grade 7
Suzanna Amirbekian, Grade 12
Isabelle Brand, Grade 12
Hope Brown, Grade 10
Paige Davenport, Grade 11
Audrey Henson, Grade 12
Kripa Hongalgi, Grade 10
Natalee Huli, Grade 12
Shayna Huli, Grade 10
Rayka Kogut, Grade 10
Purvayi Patil, Grade 11
Zara Pattison, Grade 10
Anna Peles, Grade 10
Kirsten Phang, Grade 11
Nina Vargas, Grade 10
Genevieve Vollaro, Grade 12
Garima Yadav, Grade 11
Coaching staff:
Scott George, Head Coach
Dylan Davis, Asst Coach
Deborah Davis