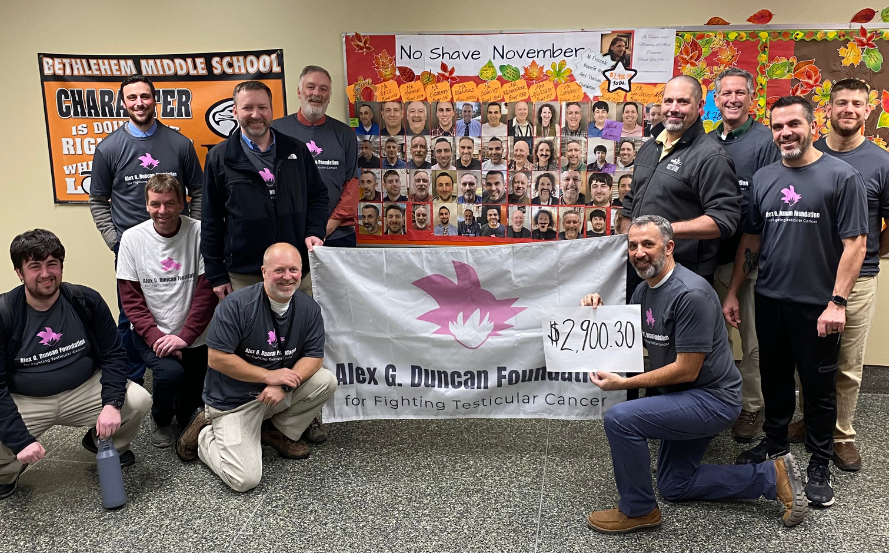 Thirteen staff members at Bethlehem Central Middle School took part in No Shave November and what they have to show for it is much more than sporty new looks. When they dropped their razors they picked up the cause of giving back to the community with aid for a local organization that supports cancer patients.
Together, with support from the school community, the group raised more than $2,900 for the Alex G. Duncan Foundation. The foundation was set up to honor the memory of Duncan who passed away in 2021 at the age of 25 from testicular cancer.
The money raised by the BCMS group will be used by the foundation to assist individuals facing testicular cancer with things like reimbursement for travel to receive care. 
Learn more about the Alex G. Duncan Foundation.
The BCMS staff members who took part in No Shave November included:
Steve Smith
Jeff Mongue
Matt Reis
Thomas Kearney
Mark Murray
Mark Warford
Tom Michalek
Andy Lenhardt
Mike Waldenmaier
Mike Charvat
Nick Rutnik
Rebecca McIlvain
Chad VanBrunt
When the building reached its goal of $2,500, Mr. VanBrunt made good on a promise to shave his head, according to the event organizer teacher Steve Smith.
"November is Cancer Awareness Month and No Shave November is one way of raising awareness and supporting the warriors and families dealing with the daily challenges of cancer," said Smith.
Smith will present the check for $2,950.30 to Darrin and Tonya Duncan, Alex Duncan's parents, who run the foundation in his name.