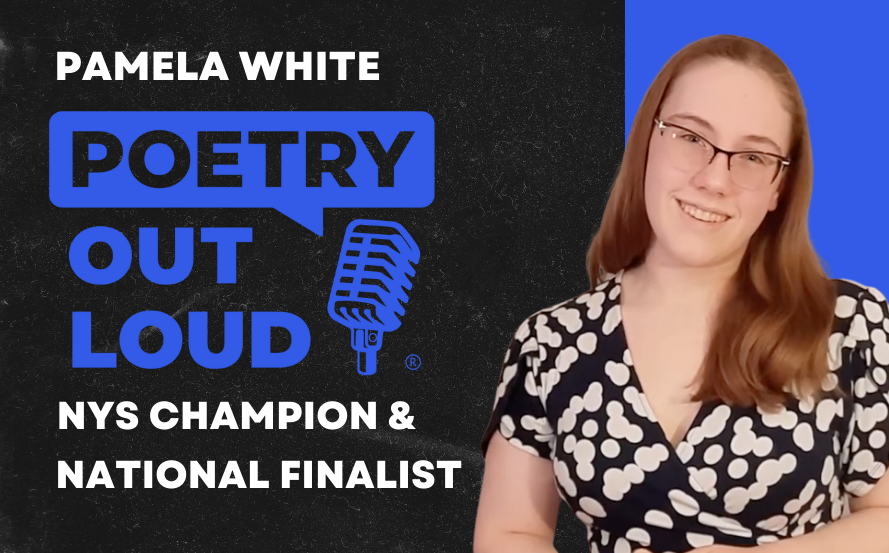 Congratulations to Pamela White! The BCHS junior is one of only a handful of students in the nation who will compete for $50,000 in prizes in the Poetry Out Loud 2022 National Finals in June.
On Sunday, May 1, Pamela advanced to the final round after a top-rated  performance in the semifinals of the poetry recitation contest. A total of 54 students representing every state in the nation along with Puerto Rico, Guam, American Samoa and the U.S Virgin Islands began the semifinal round, reciting two poems each. White chose "Candles" by Carl Dennis "Oranges" by Roisin Kelly for her recitations.
Only nine competitors earned the right to move on to the national finals including White, the New York State Poetry Out Loud champion.  
What began in November as a classroom assignment will culminate on Sunday, June 5 at the national championship sponsored by the National Endowment for the Arts. The national winner will be awarded $20,000 and all nine students will walk away with at least $1,000. Poet, publisher, and New York Times bestselling author Kwame Alexander will host the virtual event that will include poetry recitations by each of the finalists and the announcement of the National Champion.
English teacher Andrew Rickert, who brought Poetry Out Loud to Bethlehem in 2018 and who has made it an annual tradition every year since had this to say about Pamela White's success in the prestigious poetry recitation competition:
"It has been a joy to have witnessed Pam's ascent through all four rounds of POL this year. From the school contest to regionals to states, and then the National semifinal. This has required a tremendous amount of time and dedication on her behalf which I commend her for," said Rickert. "Advancing beyond the National semifinal truly cements her talent as one of the best in the country. She's very modest and might not want to look at it like this but the truth is she's outlasted dozens of state champions and tens of thousands of competitors nationwide. She's kind of a big deal."